Aven's Stealth Cutters Line Provides Durability and Comfort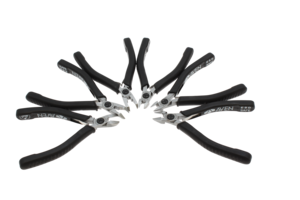 Stealth Cutters are manufactured from a high-performance Japanese steel, giving them exceptional strength and durability. The induction hardened cutting edges provide superior performance and our proprietary grinding process of the blades ensure a crisp clean cut each time.
These cutters feature a non-reflective satin finish, as well as a unique screw joint design for perfect blade alignment while minimizing friction.
ESD safe grips provide users with static-free control and comfort while cutting, as the ultra-responsive leaf springs help reduce hand fatigue. Stealth Cutters are available in both flush and semi-flush finishes, as well as a variety of head styles.
For more information, call (734) 973-0099, click http://www.aventools.com/product-category/hand-tools/stealth-cutters/to see the full line on our website.
Aven, Inc. manufactures and distributes high-performance, optical instruments and precision tools for microscopy, inspection and assembly.
A technology innovator since 1983, Aven is located in a high-tech corridor of Southeast Michigan.
More from Materials