Aven™s Adjustable Circuit Board Holder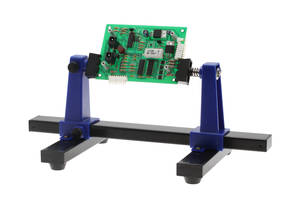 The Adjustable Circuit Board Holder is one of Aven's most popular items due to its practicality and affordability. It is designed to be versatile and adjustable, providing maximum flexibility to hold PCBs of all sizes. It features two adjustable grips on a retractable stand to accommodate various board sizes up to 198mm wide and up to 4mm thick. The adjustable metal clamps allow the PCB to rotate 360 degrees and stay set in any position. Sturdy and durable, the base of this rigid metal stand sits on four rubber feet to ensure stability. This dynamic tool is ideal for clamping PCB for soldering, desoldering, inspection, rework and more.
For more information, call (734) 973-0099
Aven, Inc. manufactures and distributes high - performance optical instruments and precision tools for microscopy, inspection and assembly. More than 800 products include video inspection systems, integrated portable microscopes, video borescopes, task lights and stainless steel tools for lab use and precision hand tools such as tweezers, pliers, cutters, screwdrivers, crimpers, knives and alignment tools.
A technology innovator since 1983, Aven is located in a high-tech corridor of Southeast Michigan.
CONTACT:
Mike Shahpurwala
734-973-0099
More from Software