Aven miniVue Camera Adds Viewing Screen to Any Microscope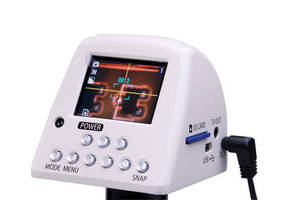 Built-in image display and image capture capabilities distinguish the Aven miniVue Camera from conventional microscopy and video inspection instruments. This all-in-one digital color camera simplifies applications and reduces clutter by eliminating the need for a workbench PC or monitor.

The compact accessory, featuring a 3.1-megapixel CMOS camera and two-inch LCD screen, attaches to any microscope trinocular head with C-mount threading. Images on the high-resolution screen can be captured instantly with an included SD memory card and transferred later to a computer or directly to a printer via USB interface.

"This is the first microscopy camera with a viewing screen included," says Mike Shahpurwala, president and chief marketing officer at Aven, Inc. "That's a practical benefit on the shop floor and in research labs."

The miniVue simplifies magnified inspection and documentation for life sciences studies, quality assurance, failure or defect analysis, and training or scholarly presentations. Operators can quickly check SMT solder joints, inspect parts or record laboratory observations.

"This versatile system saves time and space," adds Shahpurwala, whose company is a global distributor of optical technology and precision tools. "It's a cost-efficient way to adapt scopes for image preservation or to provide an easily remounted inspection camera for departmental sharing."

Aven's miniVue includes MicroCap 2.0 software with these functions:

o Jpeg and bitmap digital imaging.

o Time lapse interval imaging.

o Cross-hair placement for location and measurement on images.

o Automatic mode or manual selection of exposure, brightness, contrast and white balance.

o Digital zoom ability to magnify up to four times greater than the optics of the microscope.

o MPEG4 video, fed directly onto the SD card.

A TV Out cable allows connection to any size monitor for detailed viewing and training large groups.

Operators have a choice of snapping images via wired or wireless remote control, or accessing the menu and playback modes from the unit itself. The accompanying memory card has a 512Mb capacity.

"Field reports from varied applications show the miniVue easily adds image-grabbing capacity to scopes already in use," says Shahpurwala of Aven, based in a high-tech corridor or Ann Arbor, Mich.

For more information, call (734) 973-0099 or visit www.aveninc.com.

Aven will exhibit at the Productronica 2009 international trade fair in Munich, Germany, from Nov. 10-13, 2009.

Aven, Inc. is an international source of high-performance precision tools and optical inspection systems. Product lines include alignment tools, video inspection systems, magnifiers, precision knives, pliers and cutters, illumination equipment and other workbench solutions.

An electronics innovator since 1983, Aven is located in a high-tech corridor of Southeast Michigan and is the parent company SharpVue, which designs and manufactures integrated digital microscope technology.

More from Fluid & Gas Flow Equipment