Aven Micro Zoom System Allows Precise Inspection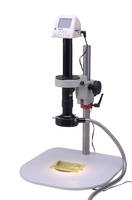 A sophisticated video inspection system is designed for critical inspection applications requiring high magnification and high resolution applications. The Aven Micro Zoom gives electronic, industrial and scientific users convenient flexibility to vary field of view, working distance and magnification.

Applications include fabrication and prototype design, quality assurance checks of integrated circuits and solder joints, failure analysis of machine parts, qualitative surface analysis (metrology) and non-contact measurement.

The versatile system has a Zoom 6000 lens with a dynamic magnification range of 20x to 134x and a working distance of 81 mm to 93 mm (3.2 to 3.6"). A 0.5x adapter tube and auxiliary lens, which are included, offer 10x to 67x magnification for inspecting samples at 143 mm to 187 mm (5.6" to 7.3").

Instant image capture is accomplished with the Aven system's miniVue 3.1 megapixel CMOS camera, which has measurement software, a two-inch LCD screen and built-in SD memory card. By connecting to a computer via USB interface, images can be viewed on a larger monitor, printed or emailed.

The Micro Zoom is engineered to reduce operator fatigue and eye strain. A 150-watt fiber optic ring light provides crisp, clear viewing with optimum contrast and minimum flare. The modular system is mounted on an Ergo Stand with 11-inch by 18-inch base or a dual-arm stand with ball bearing rotational movement.

A variety of adapters, auxiliary lenses, lighting options, video capture cords and cameras allow custom configurations. The Michigan optical supplier also offers detented lenses for high-precision measurements and repeatable magnification stops through the zoom range. For maximum zoom range and resolution, users can select a 12x lens.

Lab applications in biotechnology, life sciences and healthcare include flow cytometry, molecular diagnostics, hyperspectral microscopic imaging, laser confocal imaging, cell identification and detection, gel documentation, contamination investigation, particle characterization, DNA sequencing, microarray scanning, proteomics, colony picking, cell sorting, live cell imaging, mass spectrometry, micro fluidics and crystal growth.

For more information, call Aven at (734) 973-0099 or visit www.aveninc.com.

Aven, Inc. is an international source of high-performance precision tools and optical inspection systems. Product lines include alignment tools, video inspection systems, magnifiers, precision knives, pliers and cutters, illumination equipment and other workbench solutions.

An electronics innovator since 1983, Aven is located in a high-tech corridor of Southeast Michigan and is the parent company SharpVue, which designs and manufactures integrated digital microscope technology.

More from Textile Industry Products