Avanti Series Benchtops offer multi-dimensional imbalance tolerance.
Press Release Summary: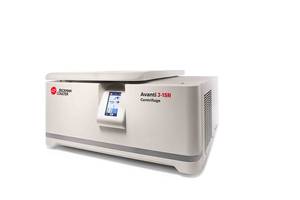 Avanti Series Benchtops are available in J-15R and J-15 variants with 75.6 x 70.3 x 36.8 and 55.6 x 74.9 x 36.8 dimensions respectively. Units offer speed of 10,200 RPM and RCF of 11,420 x g. Product comes in sample capacity of 3 L and is suitable for cell culturing, nucleic acid purification, blood processing and assay setup applications. Benchtop utilizes adapters, tubes, bottles and Aerosolve canisters. J-15R model comes with a set temperature range of -10° C to + 40° C.
---
Original Press Release:
New Avanti J-15 Series Centrifuges Redefine Beckman Coulter's Portfolio
Provides the smooth sample-handling of an ultracentrifuge from a space-saving benchtop model
Celebrating 70 years as a world leading manufacturer of laboratory centrifuges, Beckman Coulter Life Sciences introduces the next generation of refrigerated, high-speed benchtops - the Avanti J-15 Series.
Designed to leverage harmonic technology that ensures ultra-smooth acceleration/deceleration profiles, the Avanti J-15 Series protects samples from disturbance so scientists can get larger soft pellets and higher sample yield from each run. This technology also helps improve operational efficiency, which can save time by shortening workflows.
"The new Avanti J-15 Series addresses the two most important factors in any experiment: time spent performing it and how much you get out of it," says Julia Luciano-Chadee, senior applications scientist with Beckman Coulter.
"We designed this new benchtop to save time while increasing yield. For experiments that require multiple short runs, we've seen up to a 10% reduction in the time required for completion. For busy, high-use labs, that time savings can add up over the course of a workweek. It also helps maintain sample integrity, because they can be spun sooner rather than sitting- often on ice - waiting to be processed."
The Avanti J-15 Series was designed to deliver repeatable results for a variety of applications - including cell culturing; "spinfection" to improve transduction; nucleic acid purification; protein concentration; blood processing and assay setup. This versatility means it can effectively replace four of Beckman Coulter's Allegra refrigerated benchtop models. The Avanti J-15 Series utilizes the same consumable offering including adapters, tubes, bottles, and Aerosolve canisters as the Allegra models (X-12, X-14, and X-15).
Another important enhancement is multi-dimensional imbalance tolerance (MIT), which is enabled by improvements in instrument design combined with a new software algorithm. MIT can help identify imbalances more quickly and accurately, thereby reducing the chance of a "false positive" imbalance alert, so researchers can "set it and forget it" with confidence.
The high-contrast "app-like" design of the Avanti J-15 software interface will look familiar to anyone who uses the latest smartphone or tablet, and enables fast, easy access to up to 99 customizable programs. Beckman Coulter's design engineers have even made sure the touchscreen is sufficiently sensitive to gloved fingertips, for maximum user convenience and protection.
Other features of the Avanti J-15 Series include:
Max speed: 10,200 RPM
Max RCF: 11,420 x g
Max sample capacity: 3 L
Set Temperature range for the Avanti J-15R: -10° C to + 40° C
Avanti J-15R Dimensions: 29.8" W x 27.7" D x 14.5" H (75.6 cm x 70.3 cm x 36.8 cm)
Avanti J-15 Dimensions: 21.9" W x 29.5" D x 14.5" H (55.6 cm x 74.9 cm x 36.8 cm)
In keeping with Beckman Coulter's long-standing commitment to ensuring maximum customer safety, routine cell culture procedures can be done using BioCertified* Aerosolve canisters, which let users inspect samples before the canister is opened. For added safety, users can easily remove canisters from the buckets and transport them from the centrifuge to a Biosafe hood for further processing.
"With the Avanti J-15 Series, we want to help our customers get the maximum sample yields in the shortest possible time," says Luciano-Chadee. "But we'll never compromise on safety."
For more information about the new Avanti J-15 ventilated and refrigerated benchtop centrifuges, visit https://www.beckman.com/centrifuges/high-speed.
Model specific info:
Avanti J-15R – beckman.com/centrifuges/high-speed/avanti-j-15R
Avanti J-15 - beckman.com/centrifuges/high-speed/avanti-j-15
About Beckman Coulter Life Sciences
Beckman Coulter Life Sciences develops, manufactures and markets products that simplify, automate and innovate complex biomedical testing. For more than 75 years, our products have been making a difference in peoples' lives by improving the productivity of medical professionals and scientists, supplying critical information for improving patient health and delivering trusted solutions for research and discovery. Scientists use our life science research instruments to study complex biological problems including causes of disease and potential new therapies or drugs.
For more information, visit beckman.com/home.
More from Fluid & Gas Flow Equipment