Avalues New Type 6 COM Express Compact Module are Complied with Function-Ready Baseboard
Press Release Summary: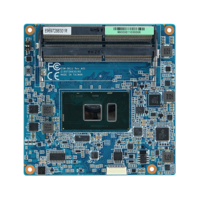 Avalue's Type 6 COM Express® Compact Modules include ESM-APLC and ESM-KBLU models featuring Type 6 Rev 2.1 Pin-out. ESM-APLC is embedded with Pentium® N4200 1.1GHz / 6W and Celeron® N3350 1.1GHz / 6W SoC processors and supports dual channel 18/24 bit LVDS, Display Port, HDMI and VGA and one 204-pin DDR3L 1866 SO-DIMM. ESM-KBLU module comes with 3 SATA (6.0GB/s), 8 USB 2.0, 4 USB 3.0, 8-bit GPIO ports and is suitable for digital signage, ATM, smart kiosk and gamming industries.
---
Original Press Release:
Avalue Announces Type 6 Computer-on-Module (COM) Express® Compact Module, ESM-APLC and ESM-KBLU
TAIPEI, TAIWAN, April 27th, 2018 – Avalue TechnologyInc. (TAIEX: 3479-TW), global embedded solution provider, an associate member of Intel® Internet of Things Solutions Alliance. Avalue announces Type6 COM express® compact module products, ESM-APLCand ESM-KBLU. The COM Express® specification defines a family of Small Form Factor (SFF) and Computer-on-Module (COM) single board computers appropriate for a wide range of commercial and mil/aero applications. One of the most significant benefits of Computer-on-Module (COM) is the reduction of development time by its modular design. Complied with the function-ready baseboard, the COM is in a state of seamless upgradability and allowed to follow technologies of the time.
 
ESM-APLC is equipped with the Intel® Apollo lake Pentium® N4200 1.1GHz / 6W and Celeron® N3350 1.1GHz / 6W SoC Processors. ESM-APLC supports one 204-pin DDR3L 1866 SO-DIMM (up to 8GB) and eMMC 5.0 up to 64GB (optional). Extensive I/O support including 8 x USB 2.0, 4 x USB 3.0, 2 x SATA III, 1 x UART, 1 x 8-bit GPIO, 1 x SMBus, 1 x LPC and 1 x I2C. ESM-APLC supports several graphic interface including dual-channel 18/24-bit LVDS supports up to 1920 x 1200 @60Hz, VGA Supports up to 1920 x 1200 @60Hz, HDMI supports up to 3840x2160 @30Hz and DP support 4096x2160 @60Hz. Multiple Display: Support 3 independent display. The processor TDP is only 6W which is very helpful for energy-saving and to prevent possible problems caused by overheated system. ESM-APLC is ideal for customers who need optimized processing and graphics performance with low power consumption in a long product life solution, such as embedded board, MID/UMPC, Microserver/Server and Consumer Electronics.
 
ESM-APLC main features:
Onboard Intel® Celeron®N3350 / Pentium® N4200 SoC BGA Processor
1 Sockets 204-pin, SO-DIMM up to 8GB DDR3L 1866 SDRAM
Support Dual Channel 18/24 bit LVDS, Display Port, HDMI, VGA, eDP (Optional)
Intel I211 Gigabit Ethernet
2 SATA 3.0, 8 USB 2.0, 4 USB 3.0, 8-bit GPIO
HD Audio Interface
+9~+19V Wide Range Power Input
Type 6 Rev 2.1 Pin-out
Compact Size: 95x95mm
TPM2.0 (Optional)
eMMC 5.0 up to 64GB (optional)
ESM-KBLU is equipped with the Intel® Kaby Lake 7th Gen Core™ SoC ULT i7/i5/i3 BGA Processors, supports two 260-pin DDR4 SO-DIMM up to 32GB. Extensive I/O support including 8 x USB 2.0, 4 x USB 3.0, 3 x SATA III, 2 x UART, 1 x 8-bit GPIO, 1 x SPI, 1 x SMBus, 1 x LPC and 1 x I2C. For graphic interface, ESM-KBLU supports dual-channel18/24-bit LVDS supports up to 1920 x 1200 @60Hz, Display Port supports up to 4096 x 2304 @60Hz, HDMI supports up to 4096 x 2160 @24Hz, DVI, VGA supports up to 1920 x 1200 @60Hz and eDP(Factory Option). ESM-KBLU is ideal for Digital Signage, Thin Client, ATM, Smart Kiosk, Gamming Industries and SMB Storage Appliance & Surveillance applications.
 
ESM-KBLU main features:
Onboard 7th Gen Intel® Core™ SoC ULT i7/i5/i3 BGA Processor
Two 260pin SODIMM DDR4 2133 SDRAM Slot up to 32GB
Support Dual Channel LVDS, Display Port, VGA/HDMI, eDP Optional
3 SATA (6.0GB/s), 8 USB 2.0, 4 USB 3.0, 8-bit GPIO
Intel 1219LM Gigabit Ethernet
Type 6 Rev 2.1 Pin-out
Supports Intel® iAMT 11.0, TPM 2.0 (Factory Optional), Turbo Boost Technology, vPro, Wake on LAN
For more information, please visit our website at www.avalue.com.tw, or contact us at sales@avalue.com.tw for more details.
 
About Avalue Technology
Avalue Technology (TAIEX: 3479-TW) is a professional industrial computer manufacturing company, who is dedicated to developing the x86 and RISC architecture products, including embedded computers, single board computers (SBC), Systems-on-Modules/ ETX (SoM/ ETX), industrial motherboards, all-purpose panel PCs,, barebone products, Mobile solutions, Industry 4.0 solutions, Retail solution and various IOT ready products. Having expanded, Avalue offers its expertise on PCB/ Assembly/ BIOS version control and all types of after-sales services. An ISO 9001:2008, ISO 13485:2003, ISO 14001:2004 and OHSAS 18001:2007 certified company; Avalue offers assurance to customers in every aspect of business. With headquarter located in Taiwan, Avalue has global subsidiaries, including offices in Shanghai, New Jersey, California and Tokyo. In addition, Avalue Technology operates an extensive distribution network to accommodate and serve customers all around the world.
 
Media Contact:
Email: pr@avalue.com.tw
More from Computer Hardware & Peripherals