Avalanche Photodiode aids in low-light measurement.
Press Release Summary: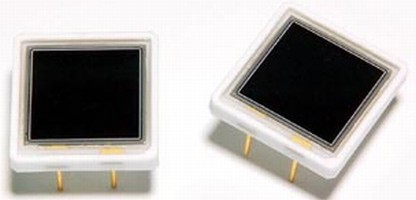 Featuring 10 x 10 mm active area, S8664-1010 silicon APD (avalanche photodiode) is suited for design into analytical instruments for low-light-level measurement. Detector's spectral response range is 320-1000 nm, with peak wavelength at 600 nm. At 600 nm, quantum efficiency is approximately 85% and gain is 50. Featuring high sensitivity in visible spectrum, high gain, low noise, and low capacitance, unit comes in ceramic housing with epoxy resin window.
---
Original Press Release:
Hamamatsu Offers Avalanche Photodiode with Large Active Area for Low Light Measurement
The S8664-1010 features a 10 mm x 10 mm active area as well as high sensitivity & high gain. Bridgewater, NJ - May 1, 2006 - Hamamatsu Corporation's S8664-1010 silicon APD (avalanche photodiode) provides a large, 10 mm x 10 mm active area and several other benefits that make it ideal for design into analytical instruments for low-light-level measurement. Among these benefits are high sensitivity in the visible spectrum, high gain, low noise, and low capacitance. The detector's spectral response range is from 320 nm to 1000 nm, with its peak wavelength at 600 nm. At 600nm, quantum efficiency is approximately 85% and gain is 50. In terms of packaging, the S8664-1010 comes in a ceramic package with an epoxy resin window. Single quantity pricing of the S8664-1010 is $1282.75, and delivery time is 4 to 5 weeks after receipt of order. For more information about this product or other Hamamatsu solid state detectors, call 1-800-524-0504 or visit sales.hamamatsu.com. About Hamamatsu Corporation Hamamatsu is a leading manufacturer of devices for the generation and measurement of infrared, visible, and ultraviolet light. Its products include photodiodes, photomultiplier tubes, scientific light sources, infrared detectors, photoconductive cells, and imaging devices. The company's unique corporate philosophy stresses the advancement of photonics through extensive research, which results in products that are regarded as state of the art. Hamamatsu products are used throughout the world in scientific, industrial, and commercial applications. Contact: George E. Marshall, Hamamatsu Corp. 360 Foothill Road, Box 6910, Bridgewater, New Jersey 08807-0910 Phone: (908) 231-0960 / Fax: (908) 231-1218 Email: gmarshall@hamamatsu.com Information furnished by Hamamatsu Corporation is believed to be reliable. However, no responsibility is assumed for possible inaccuracies or omissions. Specifications are subject to change without notice. Company Name: hamamatsu Address 1: 360 foothill rd Address 2: box 6910 City: bridgewater State: NJ Zip: 08807 Country: USA Phone: 908-231-0960 URL: sales.hamamatsu.com Contact Name: george marshall Organization: Title: Asst. to V.P. Sales & Marketing E-mail: gmarshall@hamamatsu.com
More from Communication Systems & Equipment