AV Room Controller has fully programmable LCD front panel.
Press Release Summary: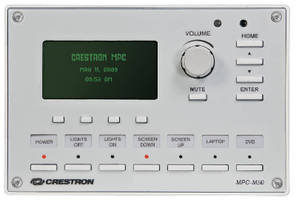 Mounted in wall or podium, Media Presentation Controller(TM) model MPC-050 features built-in 2-Series control system and fits onto standard 3-gang electrical box. LCD has 4 soft and 7 hard key buttons with LED feedback, programmable for controlling system functions. In addition to several connectivity interfaces, there are also 16 programmable buttons, customizable backlit labeling, volume control knob, 17 control ports, and wireless remote capability.
---
Original Press Release:

Crestron Releases the MPC-M50 Media Presentation Controller(TM)



The First MPC Unit with a Fully-Programmable LCD Front Panel

ROCKLEIGH, NJ, September 9, 2009 - The Crestron MPC family of AV room controllers delivers the most simple, cost-effective routing and control solution on the market today. Now shipping, the MPC-M50 features a built-in 2-Series control system and fits onto a standard 3-gang electrical box. Its large LCD display has four soft and seven hard key buttons with LED feedback, all fully programmable for controlling system functions such as power, source selection, transport control, audio settings, lighting, and more.

In addition to the LCD screen, the MPC-M50 has a total of 16 programmable buttons, customizable backlit labeling, volume control knob, 17 various control ports, and wireless remote capability. Like all MPC models, the MPC-M50 is available in black and white, mounts in a wall or podium, and provides seamless integration with Crestron RoomView® software via Ethernet, enabling IT/AV managers to remotely monitor, manage and control every room on the network. SSL encryption provides a totally secure network connection at all times, preventing unauthorized access to the system.

"It's remarkable, having the power and flexibility of a 2-Series control system built into such a compact unit," said Vincent Bruno, Crestron Director of Marketing. "Add any of the 14 MP-WP wall plates, which support a variety of configurations in any type of room, and you are guaranteed the most versatile and flexible system installation."

Through its onboard control ports, the MPC-M50 interfaces directly with the video display or projector, DVD player or TV receiver, projection screen, lift, occupancy sensor, and other room devices. In addition to high-speed Ethernet, there are two bidirectional RS-232 COM ports, two IR/serial ports, six relays, and four input ports right on the rear panel.

The MPC line is easy for instructors to learn and use, and equally important, can be implemented consistently in every room, lecture hall, or auditorium. MPCs communicate directly with Crestron-exclusive RoomView help desk software, the industry's most comprehensive facility-wide solution for remote monitoring and asset management. Built-in SNMP support also enables integration with third-party network management software, allowing full control and monitoring from the IT Help Desk or NOC in a format that's familiar to IT personnel.

About Crestron
For 40 years Crestron has been the world's leading manufacturer of advanced control and automation systems, innovating technology and reinventing the way people live and work. Offering integrated solutions to control audio, video, computer, IP and environmental systems, Crestron streamlines technology, improving the quality of life for people in corporate boardrooms, conference rooms, classrooms, auditoriums, and in their homes. Crestron's leadership stems from its dedicated people who are committed to providing the best products, programs and services in the industry.

In addition to its World Headquarters in Rockleigh, New Jersey, Crestron has sales and support offices throughout the U.S., Canada, Europe, Asia, Latin America and Australia.

Melissa Lowver
Senior Marketing Communications Manager
P: 201.767.3400 x10307
F: 201.767.1902
E: mlowver@crestron.com
Crestron Electronics, Inc.
15 Volvo Drive
Rockleigh, NJ 07647
www.crestron.com

More from Optics & Photonics