AV Presentation System accommodates analog and digital sources.
Press Release Summary: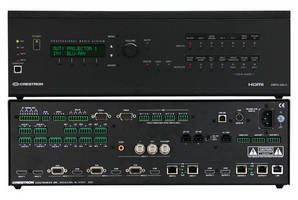 Suited for boardrooms and lecture halls, DMPS-300-C integrates control processor, multimedia matrix switcher, mic mixer, audio DSP, and amplifier into one rackmount AV presentation solution. HD presentation control and signal routing solution, leveraging DigitalMedia(TM) 8G+ single-wire technology, intelligently streamlines wiring for remote AV sources, computers, and displays. Any mix of digital and analog signals can be carried over up to 330 ft via one standard CAT5e wire.
---
Original Press Release:

Crestron Introduces Its Latest Digital Breakthrough with New Digitalmedia(TM) Presentation System



DMPS-300-C Combines Best of Analog and Digital Worlds to Deliver a Future-Proof AV Presentation Solution for Boardrooms, Lecture Halls and Video Conferencing

Orlando, FL - Crestron today introduced its first DigitalMedia Presentation System (DMPS), the next generation of the legendary MPS Multimedia Presentation System, at InfoComm booth 3001. DMPS-300-C offers a complete high-definition presentation control and signal routing solution that integrates a control processor, multimedia matrix switcher, mic mixer, audio DSP and amplifier with DigitalMedia 8G+(TM) technology, all into a single rackmountable component.

With the new generation of DigitalMedia 8G+ single-wire technology built-in, DMPS-300 intelligently streamlines wiring for remote AV sources, computers and displays, enabling any mix of digital and analog signals to be carried long distance over a single standard CAT5e wire. Eliminating the need for numerous separate components, and the installation/integration hassles that accompany them, DigitalMedia Presentation System 300 provides a future-proof digital AV presentation solution for corporate and education settings.

"The DigitalMedia Presentation System 300 combines our popular MPS Multimedia Presentation System family of products with our high-output DigitalMedia 8G+ AV network technology to provide everything needed to equip any room for the highest quality HD AV presentations, no matter what sources or displays you want," said Fred Bargetzi, Crestron VP of Technology. "As we have over the past several years, we're leading the transition from analog to digital. DigitalMedia Presentation Systems offer the only integrated solution that can seamlessly handle both analog and digital AV, as well as control."

To bring any room into the digital world, DMPS-300-C provides high-performance matrix switching of seven simultaneous analog or digital sources to up to four HDMI or DVI display devices, plus up to three analog audio components.

Integrated DM 8G+(TM) inputs and outputs afford the ultimate in simplicity, providing a true one-wire interface for remote sources and display devices. Supporting wire lengths up to 330 feet (100 meters), DM 8G+ can also provide an ideal interface to a central DigitalMedia switcher as part of a larger multi-room or room-combining system.

In addition to flexible matrix switching, DMPS-300-C adds a built-in control processor, onboard gated microphone inputs with enhanced DSP, line and mic level mixing and DigitalMedia 8G+ connectivity to deliver the most complete, easy-to-use digital presentation system available. Whether in the classroom, boardroom or videoconference room, DMPS-300-C makes complex signal routing easy for any room full of AV and computer sources, microphones, display devices, speaker zones, touch screens and codecs.

DMPS-300-C immediately brings any presentation room into the digital age. DMPS-300-C takes in every source signal, processes, mixes and amplifies the audio and transmits it all flawlessly over a single wire.

For more information about how you can bring your classrooms, conference rooms and lecture halls into the digital age, please visit InfoComm booth #3001 or DigitalMedia Presentation System. For high-res photos, go to www.crestron.com/infocommnews.

To get all the latest news, information and product updates subscribe to our RSS feed, "Like" us on Facebook and follow us on Twitter.

For more than 40 years Crestron has been the world's leading manufacturer of advanced control and automation systems, innovating technology and reinventing the way people live and work. Providing integrated solutions to control audio, video, lighting, computer, IP and environmental systems, Crestron streamlines technology, improving the quality of life for people in corporate conference rooms, hotels, classrooms, auditoriums, and in their homes. Crestron's leadership stems from its dedicated people who are committed to providing the best products, programs and services in the industry. In addition to its World Headquarters in Rockleigh, New Jersey, Crestron has sales and support offices throughout the U.S., Canada, Europe, Asia, Latin America and Australia. Discover the world of Crestron by visiting www.crestron.com.

Crestron, the Crestron logo, DM, DM 8G, DM 8G+, DigitalMedia, DigitalMedia 8G, and DigitalMedia 8G+ are trademarks or registered trademarks of Crestron Electronics, Inc. in the United States and other countries. HDMI is either a trademark or registered trademark of HDMI Licensing LLC in the United States and/or other countries. Other trademarks, registered trademarks, and trade names may be used in this document to refer to either the entities claiming the marks and names or their products. Crestron disclaims any proprietary interest in the marks and names of others.

More from Materials