Information Management Systems
Autonomous Stockyard Management System Improves Production Capacity and Efficiency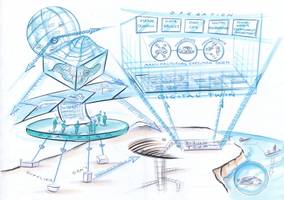 Siemens implements autonomous stockyard management system in China
Autonomous stockyard management system combines five automation systems
Interaction of all components enables control of machines and conveyors
Improved system efficiency, production capacity and security coupled with lower operating costs
Siemens is supplying an autonomous stockyard management system to be used in a new plant for HBIS Laoting Steel Co. Ltd., a Chinese subsidiary of one of the world's biggest iron and steel producers. The autonomous stockyard management system from Siemens comprises of a material tracking and management system (MAQ), an autonomous stockyard operating system (MOM), a Simatic PCS 7 process control system, industry network, consulting, engineering, project management and commissioning. Interaction between these different components enables control of all the plant's machines and conveying systems, it offers wideranging benefits such as the capability for all machines and conveyors to be controlled from a single system. This is achieved using a 3D model of the existing inventory which provides information on the volume and quality of stocked material, enabling autonomous operation of all the plant's storage and retrieval machines. This allows HBIS Laoting Steel Co. Ltd. not only to drive down its operating costs, but also to achieve between a five and ten percent improvement in system efficiency and between three and seven percent higher production capacity. The use of autonomous storage and retrieval machinery also improves safety.
The latest environmental regulations set out by the Chinese Government require all newly constructed stockyards to be indoors. The high temperatures and levels of dust involved make for harsh working conditions, meaning that only autonomous storage and retrieval machinery can be operated in these new indoor facilities. This prompted HBIS Laoting Steel Co. Ltd. to look at using an autonomous stockyard management system from Siemens.
For further information on Mining, please see www.siemens.com/mining-digitalization
Contact for journalists
Stefan Rauscher
Phone: +49 911 895-7952; E-mail: stefan.rauscher@siemens.com
Follow us on Social Media:
Twitter: www.twitter.com/MediaServiceInd and www.twitter.com/siemens_press
Blog: https://blogs.siemens.com/mediaservice-industries-en
Siemens AG (Berlin and Munich) is a global technology powerhouse that has stood for engineering excellence, innovation, quality, reliability and internationality for more than 170 years. The company is active around the globe, focusing on the areas of electrification, automation and digitalization. One of the largest producers of energyefficient, resource-saving technologies, Siemens is a leading supplier of efficient power generation and power transmission solutions and a pioneer in infrastructure solutions as well as automation, drive and software solutions for industry. With its publicly listed subsidiary Siemens Healthineers AG, the company is also a leading provider of medical imaging equipment – such as computed tomography and magnetic resonance imaging systems – and a leader in laboratory diagnostics as well as clinical IT. In fiscal 2018, which ended on September 30, 2018, Siemens generated revenue of €83.0 billion and net income of €6.1 billion. At the end of September 2018, the company had around 379,000 employees worldwide. Further information is available on the Internet at www.siemens.com.
More from Electrical Equipment & Systems