Automotive Tires help fleet managers lower carbon footprint.
Press Release Summary: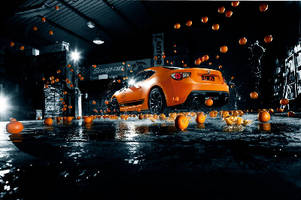 Made with orange oil and silica, BluEarth AE01 eco tires promote fuel efficiency in small to medium cars. Orange oil replaces some petroleum content formerly in rubber while also keeping tire compound soft and flexible at micro level. Tires work just as well in cold and wet conditions when rubber traditionally hardens and starts to lose grip. Additional features include low rolling resistance and multitask shoulder grooves for even wear.
---
Original Press Release:

Fleet Managers Can Lower Carbon Footprint



Fleet managers under pressure to reduce the carbon footprint for environment-conscious companies have been given a helping hand by Yokohama, which has released its BluEarth AE01 'eco tyre' made with orange oil and silica, for small to medium cars.



The BluEarth AE01 tyre range promotes fuel efficiency, longer lifespan, and eco friendly orange oil additive for higher performance and environmental gains in fleets used by private enterprise, government as well as rural administration and services.



This orange oil replaces some of the petroleum content formerly in the rubber whilst also keeping the tyre compound soft and flexible at a micro level, so it grips the road brilliantly.



Just as importantly, it works just as well in cold and wet conditions when tyre rubber traditionally hardens and starts to lose grip, according to Christian T. Hansen, Yokohama's National Marketing Manager.



On top of that, the combination of eco-friendly orange oil derived from orange peel and inert silica also makes these tyres nearly 10% lighter which in turn lowers the fuel usage by around 8-10%.



Added to the performance factor is the lower rolling resistance of these tyres, which also means a vehicle requires less power to drive along, therefore using less power and burning less fuel.



Some of the other features of the BluEarth AE01 'eco tyre' include:

• Longer than average tyre life

• Reduced hydroplaning, leading to increased grip in the wet

• On average an extra 50 Km of distance on a standard fuel tank

• Multitask shoulder grooves for more even wear



"These new tyres cover a lot of bases that should sit very comfortably with consumers and commercial users," said Mr Hansen. "The BluEarth range is made to be lighter and will last as long, if not longer than a conventional tyre. "And unlike other low rolling resistance tyres they don't lack grip on wet roads," said Mr Hansen. "With the BluEarth AE01, that elusive grip factor is restored and reinforced by Yokohama's patented orange oil & silica nano blend rubber combination."



Yokohama tyre dealers around the country expect the BluEarth AE01 to be very successful on the market, especially considering the price of these new tyres will be the same as the range they are replacing.



The BluEarth AE01 'eco tyre' range as of March 1 comes in 4 sizes:

1. The new BluEarth (AE01) car tyre for fuel efficient driving

2. The C.drive2 (AC02) car tyre for extra safety on wet roads

3. The Geolandar SUV (G055) which is a long lasting tyre for 4x4s and SUVs

4. The ADVAN A048 race tyre used in the national V8 Ute Racing Series



Orange Oil comes from the peel of the sweet orange (Citrus sinensis) and is extracted as a natural by-product of orange juice production through centrifugation and cold-pressing. It is composed almost entirely of a natural solvent called Limonene. Limonene is what gives citrus fruit their aroma, and is also used in perfume, hand and household cleaners for its fragrance, as an environmentally friendly and relatively safe solvent, in adhesives, detergents and stain removers, cleaners of various sorts, and it is also a very useful product in agriculture.



Orange Oil is also used as a base for food flavours and is made in Australia with other volumes coming from the US, Brazil and China.



For more information, go to http://www.yokohama.com.au/Footer/About-Yokohama/Orange-Oil-Tyres.aspx

For further information about Yokohama Tyres, please contact Mr Christian T Hansen

Marketing Manager Yokohama Tyre Australia Pty Ltd

M 0421 053 275 E hansen@yokohama.com.au



About Yokohama Tyre Australia

Yokohama Tyre Australia Pty Ltd was established in 1976 as a consolidation of independent agents who had previously imported Yokohama tyres. Yokohama has warehouses in each Australian state as well as a network of 500 tyre dealers throughout Australia.



Yokohama makes car tyres, 4WD tyres, truck tyres, earthmover tyres and industrial tyres. In the field of high performance tyres, Yokohama is synonymous with superb sports car performance combined with high levels of comfort.



Designed as the definitive in high performance, Yokohama tyres are engineered to bring out the best in your car's performance. Precise cornering response, safety, superb traction and feel for the road are just some of the attributes of Yokohama technology. See www.yokohama.com.au

More from Construction Equipment and Supplies