Automotive Tester/Diagnostic Oscilloscope for Vehicle Power Tests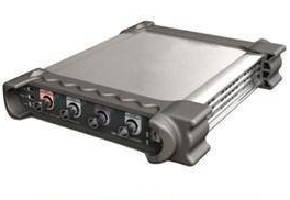 Toronto, Canada - GAO Comm (www.GAOComm.com) recommends its 4-channel automotive tester/diagnostic oscilloscope compatible with Windows NT to Windows 7 operating systems. This kit can be used either in the workshop or on the road to test and measure virtually all of the electrical and electronic components and systems in motor vehicles.



This 60 MHz automotive diagnostics oscilloscope, model A0E20001, possesses many outstanding features including vehicle diagnosis functions, more than 20 automatic measurement functions, automatic cursor tracking measurements, as well as PASS/FAIL check functions. It has a built-in frequency counter and built-in fast Fourier transform (FFT) spectrum analysis.



This plug and play instrument provides advanced trigger types including edge trigger and pulse trigger and trigger modes such as auto, normal and single. It also offers two acquisition modes including real-time sampling and roll modes with a buffer size from 10 k to 16 M samples. In addition, it is powered directly from the USB port of a computer and has a wide input voltage range of 8 V to 36 V making it suitable for vehicle power tests.



This 4-channel automotive tester/diagnostic oscilloscope belongs to GAO's family of Automotive Testers. Four other featured products in this line are Multi-Function Logic Analyzer utilizing advanced large-scale integrated circuits, high-frequency digital circuits, embedded systems and the other advanced technologies; Portable Digital Scope with 2 passive probes which are switchable between 1:1 and 10:1 input ratio; Handheld Two Channel 20 MHz Digital Oscilloscope w/DMM which integrates a digital oscilloscope (DSO), a digital Multimeter (DMM) and a Cymometer into one unit; and Handheld 2 Channel Digital Oscilloscope durably designed for operation even in harsh industrial environments.



For sales inquiries please contact:

1-877 585-9555 ext. 601 - Toll Free (USA & Canada)

1-416 292-0038 ext. 601 - All Other Areas

sales@gaocomm.com 



About GAO Comm

GAO Comm Inc. (www.GAOComm.com) is a well-known supplier of optical and electrical equipment and test instruments which are widely used in Telecommunications, CATV, Power industry and for Science and Research.



Related