Automotive Silicone Adhesive Sealant affords process flexibility.
Press Release Summary: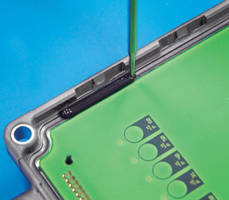 Designed for automotive module applications, BERGQUIST TLB 400 SLT offers adaptable thermal cure profile that enables full cure, independent of ambient moisture, at temperatures from 25 to 180°C to accommodate various manufacturing protocols. This 2-part solution, with 400% elongation to break, creates environmentally protected enclosure resistant to degradation from exposure to common automotive fluids. Product also exhibits reliability in high-temperature and -humidity conditions.
---
Original Press Release:

New Silicone Sealant Technology from Henkel Offers Automotive Module Manufacturers Process Flexibility through Unique Cure Capability



A brand new silicone adhesive sealant technology from Henkel Adhesive Electronics provides both high performance and process flexibility. The new material, BERGQUIST TLB 400 SLT, is a two-part silicone sealant designed for automotive module applications.  With an adaptable thermal cure profile that enables full cure at temperatures from 25°C to 180°C, the technologically advanced sealant allows automotive specialists to accommodate various manufacturing protocols.



"The cure profile is adjustable based on individual requirements," explains Jerry Schmitz, Henkel Product Line Manager for Thermal Materials.   "For example, if energy savings is a priority, the material can be fully cured and bonded at room temperature.  Alternatively, if speed and throughput are important, BERGQUIST TLB 400 SLT can be cured in minutes at higher temperatures to enable optimal process flow and end-of-line testing.  This kind of flexibility simply doesn't exist with other sealant materials."



In addition to its cure adaptability, BERGQUIST TLB 400 SLT offers high reliability and material compatibility.  Even at room temperature and independent of ambient moisture, once the two parts are mixed, BERGQUIST TLB 400 SLT will seal and bond, creating an environmentally protected enclosure.  The adhesion strength of the material to various automotive surfaces including aluminum, steel and plasma-treated plastic is robust and its elongation to break is excellent at 400%.  Compatibility with other addition cure products such as Henkel's GAP  FILLER materials enables automotive manufacturers to confidently incorporate BERGQUIST TLB 400 SLT into existing processes and product designs.



Henkel's BERGQUIST TLB 400 SLT has shown superb performance results with a variety of automotive applications including engine control units, hybrid electric and electric vehicle modules, electronic enclosures and integrated brake control modules, among others.  The material exhibits high reliability in the application at high temperature and humidity, and is resistant to degradation from exposure to common automotive fluids.



"With the ability to automate the adhesive sealant process to align with existing equipment sets and procedures, BERGQUIST TLB 400 SLT delivers the flexibility automotive module manufacturers have long desired," says Schmitz in summary.  "We expect this innovation to continue, with other time- and energy-conserving Henkel adhesives and sealants to be released later this year."



For more information, visit www.henkel-adhesives.com/thermal or call +1-952-835-2322.



Henkel in North America

Henkel markets a wide range of well-known consumer and industrial brands in North America, including Dial® soaps, Purex® laundry detergents, Right Guard® antiperspirants, got2b® hair gels, and Loctite® adhesives. Visit www.henkel-northamerica.com for more information.



About Henkel

Henkel operates worldwide with leading brands and technologies in three business areas: Laundry & Home Care, Beauty Care and Adhesive Technologies. Founded in 1876, Henkel holds globally leading market positions both in the consumer and industrial businesses with well-known brands such as Persil, Schwarzkopf and Loctite. Henkel employs almost 50,000 people and reported sales of $20.1 billion and adjusted operating profit of $3.2 billion in fiscal 2015. Henkel's preferred shares are listed in the German stock index DAX.



Contact

Henkel Adhesive Electronics  doug.dixon@henkel.com

Doug Dixon    www.henkel-adhesives.com/electronics

Phone:  +1-714-368-8000

Fax:      +1-714-368-2265

More from Sensors, Monitors & Transducers