Automotive LEDs deliver dynamic lighting for 12 years.
Press Release Summary: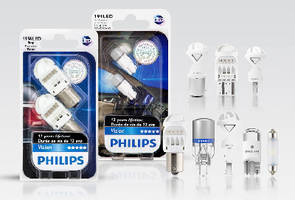 Offering direct replacements for interior and exterior vehicle lighting, Philips Vision LEDs feature advanced design that provides bright, well-focused beam on road while also handling extreme heat and high vibration. Unlike standard incandescent lights, Philips Vision LED lights turn on instantly, helping drivers to react faster. Typical applications include brake and taillights, back-up, dome and glove compartment, side markers, trunk, and license plate lights.
---
Original Press Release:

Philips Vision LEDs Guaranteed to Deliver Dynamic Lighting for 12 Years



- Innovative breakthrough first to market with street legal exterior lighting applications



Farmington Hills, MI – Philips Automotive North America, a division of Royal Philips (NYSE:PHG), has introduced its newest line, Philips Vision LEDs, as direct replacements for interior and exterior vehicle lighting. These new innovative LEDs are guaranteed to deliver years of dynamic lighting and are backed by a 12-year limited warranty.



Philips is first to market with street legal exterior LEDs. The LEDs feature an advanced design that not only provides a bright, well-focused beam on the road, but also robust enough to handle extreme heat and high vibrations.



The new Philips Vision LED offering includes both interior and exterior applications, and the lights are available to replace brake and taillights, back-up, dome and glove compartment, side markers, trunk, and license plate lights. Philips is leading the way with cutting-edge technology with these innovative Philips Vision LED lights.



Faster driver reaction time

Unlike standard incandescent lights, Philips Vision LED lights turn on instantly. This can help drivers to react faster and increase the margin of safety. In brake light applications, for example, a faster light response can help reduce overall braking distance. At a speed of 75 mph, braking distance can be reduced by up to 20 feet.



Philips Vision LEDs are available as direct replacements for the following lights: 168, 194, 12961, DE3021, DE3022, DE3175, 12854, 12844, DE3425, DE3423, 6411, 578, 211-2, 212-2, 3157, 1156, 1157, 921, 7443, and 7440.



For more information about Philips Vision LED lights and a full application guide, visit: www.philips.com/visionled or call 1-800-257-6054.



About Philips Automotive

From high performance lighting that improves driver safety, to lighting designed to enhance the style of your ride, Philips offers automotive lighting that will help you make the most of your driving experience.  All Philips Automotive products incorporate the leading edge lighting technology and original equipment quality that have made us the first choice of car manufacturers around the world.



About Royal Philips

Royal Philips (NYSE: PHG, AEX: PHIA) is a diversified health and well-being company, focused on improving people's lives through meaningful innovation in the areas of Healthcare, Consumer Lifestyle and Lighting. Headquartered in the Netherlands, Philips posted 2013 sales of EUR 23.3 billion and employs approximately 116,000 employees with sales and services in more than 100 countries. The company is a leader in cardiac care, acute care and home healthcare, energy efficient lighting solutions and new lighting applications, as well as male shaving and grooming, home and portable entertainment, and oral healthcare. News from Philips is located at www.philips.com/newscenter.



Visit us on Facebook



Media Contact:

Ann-Marie Hines

Sr. Marketing Manager

Philips Automotive, NA

34119 W. 12 Mile Rd.

Farmington Hills, MI 48331

Tel: (248) 957-4085

Email: ann-marie.hines@philips.com

More from Communication Systems & Equipment