Automotive LEDs combine efficacy and sulfur resistance.
Press Release Summary: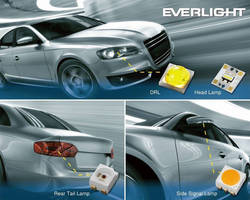 Satisfying automotive application demands, golden Series specifically suits head lamp, DRL, fog lamp, side signal lamp, and rear tail lamp applications. Golden lead frame models A09KU, 67-21U, and 67-31U, deliver sulfur resistance that promotes performance stability. PC Amber LEDs feature 3 chip manufacturing process that results in brightness decay minimized to 15% at 85°C. All products comply with AEC-Q101.
---
Original Press Release:

EVERLIGHT Electronics Extends Automotive LED Portfolio with High-Efficient, Sulfur Resistant Golden Frame Series and PC Amber Options



Golden frame enhances resistance to severe environments; PC Amber improves thermal and color stability performance



Shulin, New Taipei City – EVERLIGHT ELECTRONICS CO., LTD. [TSE:2393, a leading player in the global LED and optoelectronics industry with three decades of experience in optoelectronics, introduces the most high efficient/sulfur resistant 'golden' Series which performs brilliantly, even in severe environments, satisfying all demands of Automotive applications.



Following the trend of high-tech design on automotive applications, EVERLIGHT sees only the LEDs with stable performance and high quality can stand out to fulfill customers expectations. New golden automotive series exactly matches their highest requirements. A golden frame significantly improves a products' quality to resist sulfur. This means it works well, no matter how severe or bad the environment is, including a nearby volcano. The golden series are widely used in head lamps, DRL, fog lamps, side signal lamps and rear tail lamps; over 0.5W products are especially suited for side Signal Lamp (A09K, 67-21 and 67-31). The new versions enhanced with a golden lead frame are named A09KU, 67-21U and 67-31U. Their original counterparts with silver lead frame remain in the portfolio and continue to be offered.



The advantage of PC Amber is an enhanced brightness at high temperatures. Their 3 chip manufacturing process in contrast to the 4 chip process for traditional amber LEDs results in a brightness decay at 85°C of only 15% versus 30-50% for the original amber LEDs. Thus PC Amber LEDs provide a superior thermal and color stability performance. All of EVERLIGHT's automotive LEDs with wattages of 0.5W or more are PC Amber-colored now. EVERLIGHT is working with a global team of partners with the meticulous demand for minor defect in quality and establishes a new milestone for the car lighting market.



EVERLIGHT is committed to complete set of management system certifications, including TS-16949, OHSAS 18001, ISO 14001 for production quality. All products comply with AEC-Q101 (Automotive Qualification Requirements for Discrete Product) and other highest criteria. With ever increasing demands on LED car lamp applications, EVERLIGHT cooperates with major car lamp manufacturers for premium designs that fulfill top LED product demands, winning great trust in the OE market by public.



Samples Available: Yes. (Upon request)

Mass Production: now



URL:

http://www.everlight.com/SeriationList.aspx?Seq=a29f9654-2305-e411-8b3b-0002a54e500f



More information or data sheet for these products upon request: Please contact your local EVERLIGHT sales office. Local sales information: www.everlight.com.



"The Right LED for the Right Application"

A dedicated application-based marketing approach supports the idea that every application is to be paired with "The Right LED" to provide the best performance and quality. Every package design presents its own advantages in certain applications.



EVERLIGHT is fostering close relationships between their R&D, Sales and Marketing teams to meet and exceed their customers' expectations in both, product offering and technology. EVERLIGHT provides a great variety of customers with total solutions for their different applications and is incessantly committed to satisfy the strongly growing global market for LED solutions.



About EVERLIGHT Electronics Co. Ltd.

EVERLIGHT Electronics Co., Ltd. was founded in 1983 in Taipei, Taiwan. Playing a critical role in the formation of the global LED industry, the company has rapidly become a leading worldwide supplier due to its dedication to certification, R&D, production, quality, marketing and global customer service. EVERLIGHT provides a comprehensive optoelectronics product portfolio consisting of high power LEDs, lamps, SMD LEDs, LED lighting modules, digital displays, optocouplers and infrared components for various applications. Today, EVERLIGHT is a global company with over 5,600 employees based in China, Hong Kong, Japan, Korea, Singapore, Malaysia, Germany, Sweden, U.S., and Canada. Please visit us at www.everlight.com.



Company contact Europe:

Everlight Electronics Europe GmbH

Siemensallee 84

Building 7302, 5th floor

D-76187 Karlsruhe, Germany

Phone: +49 (0)721 824 - 473

info@Everlight-eu.de



Company contact USA:

Everlight Americas, Inc.

3220 Commander Drive

Suite 100

Carrollton, TX, 75006, USA

Phone: +1 972.490.4008

salesmarketing@everlightamericas.com



Company PR contact: pr@everlight.com



Agency contact:

Viviane Baltzer

Baltzer Communications

Sedlmayrstr, 25

D-80694 München, Germany

Phone: +49 (0)89 123.92.993

viviane.baltzer@web.de

More from Chemicals & Gases