Automotive LED Driver enhances headlight system efficacy.
Press Release Summary: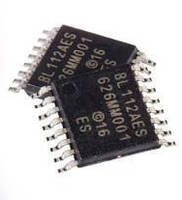 Offered in 16-pin TSSOP, S6BL112A one-channel, 2 A output, buck LED driver has 4.5–42 V input range and can drive LEDs at 2.1 MHz switching frequency. This enables headlight designs with small inductors, which allows physical size and BOM reductions. Synchronous control helps promotes conversion efficiency, which enables stable lighting system performance, while analog and PWM dimming function support enables precise brightness control. Switching frequency can be set from 205 kHz to 2.1 MHz.
---
Original Press Release:

New Cypress Automotive LED Driver Delivers Robust Performance and Minimizes the Bill-of-Material for Headlight Systems



Small, Cost-Effective Front Lighting Solution Enables Robust Operation Even in Challenging Temperature and EMI Conditions



SAN JOSE, Calif. -- Cypress Semiconductor Corp. (NASDAQ: CY) today introduced an automotive LED driver that enables smaller and more cost-effective headlight systems. The new S6BL112A automotive-grade LED driver is the industry's first to feature synchronous control, which helps it provide industry-leading conversion efficiency, enabling stable performance in a lighting system. The device is able to drive LEDs at a high 2.1-MHz switching frequency, which enables a compact headlight solution that uses small, inexpensive inductors, reducing physical size and bill-of-materials costs. The LED drivers combine with Cypress's Traveo™ microcontrollers (MCUs) and power management ICs (PMICs) to provide a best-in-class automotive front-lighting solution.



Cypress's S6BL112A Automotive LED driver features an input voltage range of 4.5-42 V that encompasses extreme operating conditions such as cold-cranking—when the automobile engine starter draws an excessive amount of current due to starting the engine in cold temperatures—or load dump—a power surge that occurs when an automobile battery is disconnected while the alternator is supplying current during engine operation. The LED driver also facilitates the design of electrical system safeguards by including System Safety Functions such as under current detection, over current and voltage protection, as well as the ability to mask undesired LED OPEN diagnosis during cold cranking. Additionally, its synchronous operation eliminates unstable dimming that can occur when the input voltage is low. More information on Cypress's automotive LED drivers is available at http://www.cypress.com/automotive-led.



"With the fast-growing usage of LED lighting systems in cars and other vehicles, automotive suppliers are seeking to minimize the component count and cost in these systems without compromising on reliability or performance," said Kiyoe Nagaya, vice president of the Analog Business Unit at Cypress. "Cypress's automotive LED drivers provide a compact, efficient headlight solution, supported by our complementary automotive MCUs and PMICs, with robust performance even in extreme temperatures or when faced with disruptive electrical noise."



The S6BL112A is a one-channel 2A output Buck LED driver that supports both analog and PWM dimming functions, enabling precise brightness control. Its switching frequency can be set between 205 kHz and 2.1 MHz, with high output current accuracy of +/-2%. The device enables slew rate control without an external filter, limiting Electro Magnetic Interference (EMI) generation that can harm peripherals.



Product Availability

The new S6BL112A LED driver is currently sampling, with production expected in the fourth quarter of 2016. It is available in a 16-pin, thermally-enhanced TSSOP package.



Cypress Enables Leading-Edge Automotive Systems

Cypress works with the world's top automotive companies to bring leading-edge automotive systems typical of luxury models to mainstream vehicles, including Advanced Driver Assistance Systems (ADAS), 3-D graphics displays and full-featured touchscreens. The Cypress-Spansion merger created the industry's No. 3 provider of memories and microcontrollers (MCUs) for the automotive market with a combined portfolio that includes the Traveo™ MCU family, power-management ICs (PMICs), PSoC® programmable system-on-chip solutions, CapSense® capacitive-sensing solutions, TrueTouch® touchscreens, LED drivers, NOR flash, F-RAM™ and SRAM memories, and USB, Wi-Fi and Bluetooth® connectivity solutions. The portfolio is backed by Cypress's commitment to zero defects, world-class service and by our adherence to the most stringent industry standards, such as the ISO/TS 16949 quality management system, the Automotive Electronics Council (AEC) guidelines for ICs and the Production Part Approval Process (PPAP). Learn more at www.cypress.com/automotive.



Follow Cypress Online

Read our Core & Code technical magazine and blog, join the Cypress Developer Community, follow us on Twitter,  Facebook and LinkedIn, and watch Cypress videos on our Video Library or YouTube.



About Cypress

Founded in 1982, Cypress is the leader in advanced embedded system solutions for the world's most innovative automotive, industrial, home automation and appliances, consumer electronics and medical products. Cypress's programmable systems-on-chip, general-purpose microcontrollers, analog ICs, wireless and USB-based connectivity solutions and reliable, high-performance memories help engineers design differentiated products and get them to market first. Cypress is committed to providing customers with the best support and engineering resources on the planet enabling innovators and out-of-the-box thinkers to disrupt markets and create new product categories in record time. To learn more, go to www.cypress.com.



Cypress and the Cypress logo, PSoC and CapSense are registered trademarks and Traveo and F-RAM are trademarks of Cypress Semiconductor Corp. All other trademarks are property of their owners.



CONTACT: Cypress Contact: Samer Bahou, Cypress PR, (408) 232-4552, samer.bahou@cypress.com

More from Computer Hardware & Peripherals