Vision and Imaging Sensors / Detectors
Automotive Image Sensors (1.7 MP) has 120 dB dynamic range.
Press Release Summary: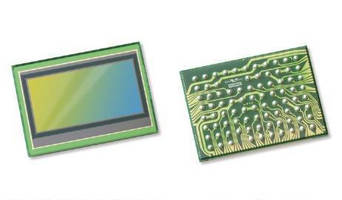 Built on 4.2-micron OmniBSI™ split pixel technology, OV10650 wide-format image sensor captures color images and video in 2:1 aspect ratio and delivers 1820 x 940 resolution at up to 60 fps. Design is compatible with image signal processing companion chips OV491 and OV495 for display-based automotive applications. With same performance and specifications as OV10650, OV10652 utilizes RCCC color filter pattern for automotive camera integrators designing front-view ADAS.
---
Original Press Release:
OmniVision Debuts Industry's First 1.7-Megapixel Automotive Image Sensors with 2:1 Aspect Ratio and 120 dB Dynamic Range
OV10650 with RGB and OV10652 with RCCC Color Filter to Enable Advanced Driver Assistance Systems

SANTA CLARA, Calif. -- OmniVision Technologies, Inc., a leading developer of advanced digital imaging solutions, today announced the OV10650, a new wide-format image sensor that captures high quality color images and video in a 2:1 aspect ratio. Built on OmniVision's 4.2-micron OmniBSI™ split pixel technology, the OV10650 delivers 1820 x 940 resolution at up to 60 frames per second and 120dB of dynamic range with best-in-class low-light performance. The sensor is compatible with OmniVision's powerful new image signal processing (ISP) companion chips (OV491 and OV495) for display-based automotive applications.

"Offering a wide field of view and high dynamic range, we view the OV10650 as ideally suited for next-generation rear video mirrors utilizing wide high-resolution displays," said Thilo Rausch, senior automotive product manager at OmniVision. "As a result, the driver can make better, more informed decisions, especially in challenging driving conditions due to increased situational and spatial awareness around the vehicle."

OmniVision is also launching the OV10652, which delivers the same high performance and specifications as the OV10650, but utilizes an RCCC color filter pattern for automotive camera integrators designing front-view advanced driver assistance systems (ADAS). Both OV10650 and OV10652 are specified to meet the standards required by the 2018 New Car Assessment Program (NCAP). Systems based on these sensors can enable features such as pedestrian detection, lane departure warning, head lamp control, forward collision warning, and traffic sign detection.

The OV10650 and OV10652 each come in AEC-Q100 Grade 2-qualified, compact 9.5 x 6.8 mm chip scale packages. They also contain an advanced set of features to enable ISO26262 ASIL B-rated camera systems. Both sensors are currently available for sampling and are expected to enter volume production in the third quarter of 2017.

About OmniVision
OmniVision Technologies is a leading developer of advanced digital imaging solutions. Its award-winning CMOS imaging technology enables superior image quality in many of today's consumer and commercial applications, including mobile phones, notebooks, tablets and webcams, digital still and video cameras, security and surveillance, entertainment devices, automotive and medical imaging systems. Find out more at www.ovt.com.

OmniVision® and the OmniVision logo are registered trademarks of OmniVision Technologies, Inc. OmniBSI™ is a trademark of OmniVision Technologies, Inc. All other trademarks are the property of their respective owners.

CONTACT: Media: Cameron Crowe, Impress Labs, 415.735.8420, cameron@impresslabs.com or Company: Scott Foster, OmniVision Technologies, 408.567.3077, sfoster@ovt.com
Related