Automotive-Grade Capacitors have volumetrically efficient design.
Press Release Summary: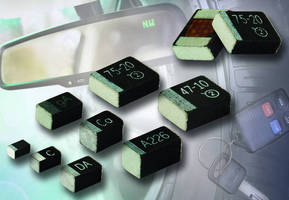 Offering various case sizes, including 0603, 0805, 0906, and 1206, AEC-Q200 qualified and RoHS-compliant TP8 series features capacitance-voltage ratings from 1.0 µF-40 V to 100 µF-6.3 V and standard capacitance tolerances of ±10% and ±20%. These molded automotive-grade MicroTan® solid tantalum chip capacitors, operating from -55 to +85°C (+125°C with voltage derating), have Pb-free, L-shaped facedown terminations and rectangular molded case encapsulation.
---
Original Press Release:

Vishay Intertechnology Introduces MicroTan® Automotive-Grade Solid Tantalum Chip Capacitors with Industry-High CV Ratings in Small Case Sizes Down to 0603



For Space-Constrained Automotive Electronics, New AEC-Q200-Qualified Devices Are Industry's First to Employ a High-Volumetrically Efficient Packaging Solution



MALVERN, Pa. — Vishay Intertechnology, Inc. (NYSE: VSH) today introduced a new series of molded, automotive-grade MicroTan® solid tantalum chip capacitors. For the next generation of space-constrained automotive electronics, the TP8 is the first AEC-Q200-qualified tantalum capacitor series to employ a high-volumetrically efficient packaging solution to enable industry-high capacitance-voltage ratings in small case sizes down to 0603.



Previously, the industry's offering of automotive-grade molded chip capacitors was limited to A through D case sizes. With the TP8 series, designers now have access to a variety of smaller case sizes — including the 0603, 0805, and 0906 — with the same capacitance and voltage ratings found in the larger devices.



The TP8 series features capacitance-voltage ratings from 1.0 µF-40 V to 100 µF-6.3 V. Included in this range are industry-best values such as 1.0 µF-20 V in the 0603 case size and 100 µF-6.3 V in the 1206 case. The devices offer standard capacitance tolerances of ±10 % and ±20 % and an operating temperature range of -55 °C to +85 °C, or +125 °C with voltage derating.



With their small case sizes, the TP8 devices save board space for bulk capacitance, energy storage, filtering, and decoupling in space-constrained automotive applications including tire pressure monitoring systems, camera modules, rearview mirrors, and remote keyless entry.



The devices' rectangular molded case encapsulation is ideal for high-volume PCB assembly, and their lead (Pb)-free, L-shaped facedown terminations offer better mechanical and electrical contact to the solder pad than traditional facedown-style terminations. The RoHS-compliant capacitors are available in 8 mm tape and reel packaging per EIA-481.



Samples and production quantities of the TP8 capacitors are available now, with lead times of 10 weeks for larger orders. Pricing for U.S. delivery only starts at $0.08 per piece.



Vishay Intertechnology, Inc., a Fortune 1,000 Company listed on the NYSE (VSH), is one of the world's largest manufacturers of discrete semiconductors (diodes, MOSFETs, and infrared optoelectronics) and passive electronic components (resistors, inductors, and capacitors). These components are used in virtually all types of electronic devices and equipment, in the industrial, computing, automotive, consumer, telecommunications, military, aerospace, power supplies, and medical markets. Vishay's product innovations, successful acquisition strategy, and "one-stop shop" service have made it a global industry leader. Vishay can be found on the Internet at www.vishay.com.



MicroTan is a registered trademark of Vishay Intertechnology.



http://twitter.com/vishayindust

http://www.facebook.com/VishayIntertechnology

More from Software