Automotive Blade Fuse Holders have PCB-mount design.
Press Release Summary: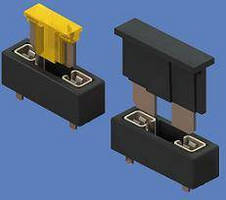 Fuse holders incorporate 2 receptacle terminals made from brass with tin over nickel plated finish that are pre-assembled to a UL rated 94V-0 glass filled nylon base. Receptacle contacts hold the fuse securely, assuring positive connections and low contact resistance. Mini, Standard, and Maxi versions suit 30, 40, and 60 A applications, respectively, and are compatible with various Littlefuse and Bussman blade fuses. A 2-in-1 thru-hole mount version for Standard and Mini fuses is also available.
---
Original Press Release:
Fuse Holders for Miniature or Standard Size Applications
For over fifty years, Keystone Electronics has been manufacturing precision electronic interconnect components and hardware, supplying quality products at competitive prices to industry, worldwide. "Quick-Fit" terminals, battery & coin cell holders, fuse clips & fuse holders, Handles for Instrumentation and LED spacers & lens caps are just a few of the electronic hardware product groups we proudly manufacture. Now available from Keystone automotive blade fuse holders that are PCB mountable for reliable connection & security. Pre-assembled fuse holders to accomodate mini, standard and maxi blade fuse sizes. Easily mounted and soldered to the PCB,the mini size holder is compatible with Littelfuse ATO 297 and Bussman ATM automotive blade fuses. The standard size holder is compatible with Littelfuse ATO 257 and Bussman ATC automotive blade fuses. The maxi size holder is compatible with Litelfuse Maxi 297 and Bussman Max series fuses. holders mount vertically on the PCB. Fuse holders incorporate two (2) individual receptacle terminals made from brass with a Tin over Nickel plated finish that are pre-assembled to a UL rated 94V-0 glass filled Nylon base. The Mini Blade Fuse holder is suitable for 30 Ampere applications. The Standard Blade Fuse holder is suitable for 40 Ampere applications. the Maxi Blade Fuse holder is suitable for 60 Ampere applications and all will withstand shock and vibration. Receptacle contacts hold the fuse securely, assuring positive connections and low contact resistance. A new 2 in 1 fuse holder is also available to accomodate both Standard and Low Profile Mini style Automotive Blade Fuses in Thru-Hole Mount Cat No. 3557-2 and Surface Mount Cat No. 3587. A major manufacturer of interconnect components and electronic hardware, Keystone's capabilities include stamping, machining and assembly service. Application engineering assistance for product modifications and special designs are also available. ISO-9001 certified and RoHS compliant, company headquarters are in the USA with offices in Canada, Europe, Australia and Asia. For more information, contact (800) 221-5510 or (718) 956-9800; Fax (718) 956-9040 Email: kec@keyelco.com or visit www.keyelco.com
More from Fasteners & Hardware