Automotive Air Purification System works in <15 minutes.
Press Release Summary: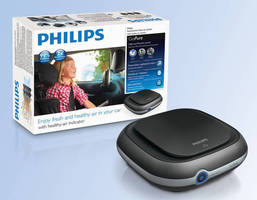 Delivering healthy air to vehicle, Philips GoPure200 Automotive Clean Air System removes pollutants, dust, allergens, and toxic gases and neutralizes unpleasant odors. This medical-grade unit also removes toxic gases typically released from new car parts. Using 3-stage air filtration process, HEPA/HESA filtering technology removes 99.9% of 0.3 µm particles and 99% of such chemicals such as toluene, benzene, and xylene. Air-quality level indicator and filter replacement indicator are standard.
---
Original Press Release:
Philips GoPure200 Automotive Clean Air System Works in Less than 15 Minutes
– Removes pollutants, dust, allergens, toxic gases and neutralizes unpleasant odors

Farmington Hills, MI… The new Philips GoPure200 Automotive Clean Air System is a compact, medical grade air purifier that delivers clean, healthy air to vehicle interiors in less than 15 minutes. The Philips GoPure200 cleanses the vehicle interior environment by removing air pollutants, dust, and allergens. It also removes toxic gases that are typically released from new car parts.

Incorporating an innovative, HEPA/HESA filtering technology, which uses a three-stage air filtration process, Philips GoPure200 Air Purifier can remove 99.9% of 0.3µm particles (bacteria, viruses, dust) and 99% of chemicals such as toluene, benzene, and xylene. It is also 3 times better than an ionizer in neutralizing unpleasant odors from tobacco smoke, stale food, and pets.

Philips GoPure200 features an air-quality level indicator (AQI) that tells users about the air quality level in their vehicle and a filter replacement indicator that alerts when a filter replacement is required. The GoPure200's compact footprint of only 7 in. W. x 2.5 in. H. makes it easy to use on the dashboard, windshield, or headrest. It comes complete with a suction-cup attachment, headrest mount, and a 12V plug for easy recharging.

To find out more: visit www.philips.com/automotive or call 1-800-257-6054.

About Royal Philips
Royal Philips (NYSE: PHG, AEX: PHIA) is a leading health technology company focused on improving people's health and enabling better outcomes across the health continuum from healthy living and prevention, to diagnosis, treatment and home care. Philips leverages advanced technology and deep clinical and consumer insights to deliver integrated solutions. The company, headquartered in the Netherlands, is a leader in diagnostic imaging, image-guided therapy, patient monitoring and health informatics, as well as in consumer health and home care. Philips' health technology portfolio generated 2015 sales of EUR 16.8 billion and employs approximately 69,000 employees with sales and services in more than 100 countries. News about Philips can be found at www.philips.com/newscenter.

About Lumileds
Lumileds is the global leader in light engine technology. The company develops, manufactures and distributes groundbreaking LEDs and automotive lighting products that shatter the status quo and help customers gain and maintain a competitive edge. With a rich history of industry "firsts," Lumileds is uniquely positioned to deliver lighting advancements well into the future by maintaining an unwavering focus on quality, innovation and reliability. To learn more about our portfolio of light engines, visit lumileds.com. Lumileds is a subsidiary of Royal Philips. (NYSE: PHG, AEX: PHIA).

Visit us on Facebook

Media Contact:
Ann-Marie Hines
Sr. Marketing Manager
Lumileds, LLC
34119 W. 12 Mile Rd.
Farmington Hills, MI 48331
Tel: (248) 699-2214
Email: ann-marie.hines@lumileds.com
More from Chemicals & Gases