AutomationDirect Expands NITRA Brand with Addition of 22mm Pneumatic Pushbutton and Switch Pilot Devices
Press Release Summary: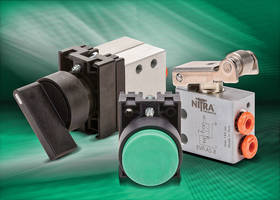 The new ECP series of 22mm pneumatic pushbutton operators and switches can fit in a standard electrical pushbutton hole and are designed for use with pneumatic valve bodies. The pneumatic pushbuttons can combine the valve bodies with electrical contact blocks for the creation of valve assemblies or hybrid electro-pneumatic actuators. The devices allow mounting up to two 3-way valves, or one valve and one to three electrical contact blocks.
---
Original Press Release:
Pneumatic Pushbutton and Selector Switch Pilot Devices from AutomationDirect
AutomationDirect's NITRA® brand of pneumatic products now includes new 22mm pushbutton and switch pilot devices intended for use with pneumatic valve bodies. These pneumatic pushbuttons can also combine valve bodies and electrical contact blocks. ECP series 22mm pneumatic pushbuttons and switches are used with EVP series valve bodies to create manual valve assemblies, or hybrid electro-pneumatic actuators. These operators allow mounting up to two 3-way valves, or one valve and one to three ECX series electrical contact blocks. The operators fit in a standard 22mm electrical pushbutton hole.
Available pneumatic pushbutton operators include momentary pushbuttons with 30mm flush and extended round heads, 40mm and 60mm round head mushroom pushbuttons, key operated 40mm round head mushroom pushbuttons, double-headed green/red rectangular pushbuttons, knob and long lever selector switches, plus 2 and 3 position key selector switches.
NITRA pneumatic pushbutton operators start at $2.75 and are backed by a one-year warranty.
The EVP series manual valves that are used with NITRA pneumatic pushbuttons and switches also function as pneumatic limit switches. These plunger valves are roller, one-way roller, thru panel and flush mounting versions. Starting at $16.00, the valves have 5/32-inch push-to-connect pneumatic connections in axial or side port configurations.
Learn more by visiting: www.automationdirect.com/pneumatic-pushbuttons
About AutomationDirect:
In business since 1994, AutomationDirect is a distributor offering thousands of industrial automation products for electrical control systems, including PLCs, operator interfaces, AC drives, motors, stepper systems, sensors, motor controls, enclosures and more. Their prices are typically well below the list price of more traditional automation companies because of their business model and focus on efficiency and the majority of their products are stocked for same-day shipping. Plus, get free two-day delivery on orders over $49; some limitations apply. For more information, contact them at 800-633-0405 or visitwww.automationdirect.com.
If you need anything further, please contact:
Tina Gable
678-455-1845