AutomationDirect Expands Hand Tool Offering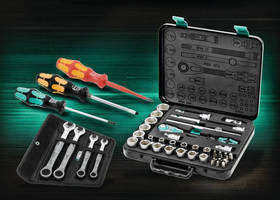 AutomationDirect has expanded its line of Wera hand tools to include ratchets and sockets, as well as combination wrenches, nut drivers, chisel drivers and additional screwdrivers. Seven-piece nutdriver sets ($33) made of chrome plated steel feature hollow shanks to allow access to nuts on long screws and  are available in inch and metric sizes.



When regular screwdrivers are not quite enough, new chisel screwdrivers are ideal for the job. Suitable for fastening, chiseling, and loosening seized screws, chisel screwdrivers feature a hexagonal blade which goes through the ergonomic handle to an impact cap fitted with a ¼-inch square socket to allow adding a ratchet for extra torque. Available individually or in six-piece sets, prices start at $9.



Reduced diameter tip insulated screwdrivers feature a smaller diameter blade at the tip to allow access to recessed screws such as those used in terminal blocks. Guaranteed safe operation up to 1,000 volts, insulated screwdrivers are available in six-piece sets or individually starting at $7.50.



Additional standard screwdrivers include extra-long screwdrivers with 11.81-inch blades, ideal for those hard-to-reach screws. Designed with a laser tip for better grip, the extra long screwdrivers start at $6.50 each; a tamper-proof TX20 TORX screwdriver, ideal for safety switches, is available for $6.50.



For more information about Wera screwdrivers, visit www.automationdirect.com/screwdrivers.



A selection of ratchet tools has also been added to the Wera line of hand tools. Combination ratchet wrenches feature a 12-point open end and a unique six-point stop plate that enables easier turning of bolts and also provides improved grip for loosening stubborn screws. The fine tooth ratchet mechanism is exceptional for working in tight spaces. Starting at $17.50, combination ratchet wrenches are available in four metric sizes and are sold individually or in a four-piece set. Learn more at www.automationdirect.com/wrenches.



Drive ratchet tools (starting at $61) are available in three sizes (1/4-inch, 3/8-inch, and ½-inch) and feature a swivel head that locks in five positions. Ratchets include an easy-to-grip free-turning sleeve for faster work when using the ratchet as a screwdriver. Also available is an extra heavy duty half-inch drive ratchet and hammer combination with a removable extension arm, rubber hammer face pad and durable cloth holster.



A wide selection of bit driver and sockets, in inch or metric sizes, is also available. Made of high quality chrome vanadium steel, sockets are available in six-piece up to 43-pice sets starting at $14. To see the full selection of Wera ratchet tools, visit www.automationdirect.com/ratchets.



All Wera tools are backed by a lifetime warranty. To see the full line of Wera hand tools, go to: www.automationdirect.com/tools.



AutomationDirect sells over 13,000 feature-packed products through its Online Automation Superstore and 2,750-plus-page catalog. The company offers its customers high-quality automation products at prices typically below the industry average, same-day shipping on in-stock items, the best documentation in the industry, outstanding sales and technical support, and a 30-day money-back guarantee on nearly every product. For a free catalog, access their Web site at www.automationdirect.com or call 800-633-0405.





More from Controls & Controllers