AutomationDirect Adds Safety Light Curtains and Limit Switches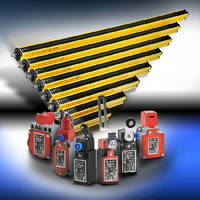 Cumming, GA --- AutomationDirect now offers machine safety devices for use in industrial applications. Two series of safety light curtains (active optoelectronic protective devices) are designed for human protection and product/machine safety where risks cannot be eliminated by machine design and the process might require frequent and open access during operation.

The YBB-14 series has a 14mm sensing resolution for finger-size protection and an operating distance of up to 3.5 meters; protective heights range from 142 mm to 1,045 mm. The YBB-30 light curtains series has a 30 mm sensing resolution for hand protection and an operating distance of up to 12 meters; protective heights range from 279 mm to 1,827 mm.

All safety light curtains have Type 4 and Cat 4 PL e safety ratings and are IP65 rated. Light curtain sender prices start at $250.00 and receiver prices start at $275.00. Mounting brackets are included with each unit and additional mounting accessories and protective columns are available.

AutomationDirect has also added a line of machine guarding safety switches to detect unsafe conditions and isolate power. Normally-closed contacts are used for a positive break and redundant normally-closed contact and normally-open feedback outputs are available. The safety switches cannot be easily defeated and all units have CE, UL and CSA approvals. Four bases are available: 30mm plastic, 50mm zinc alloy, 40mm aluminum and 60mm aluminum. Four types of interlocks are available for common safety applications including tongue (key), shaft hinge, lever hinge interlocks and pull cord actuators with reset for emergency stop or without reset for simple stop. Safety interlock switches start at $15.00 and safety limit switches start at $12.75.

See the full line of safety products at: www.automationdirect.com/safety.

AutomationDirect sells over 9,500 feature-packed products through its Online Automation Superstore and 2,750-page catalog. The company offers its customers high-quality automation products at prices typically below the industry average, same-day shipping on in-stock items, the best documentation in the industry, outstanding sales and technical support, and a 30-day money-back guarantee on nearly every product. For a free catalog, access their Web site at www.automationdirect.com or call 800-633-0405.

More from Controls & Controllers