AutomationDirect adds Room Temperature Sensors and Type T Thermocouples to ProSense line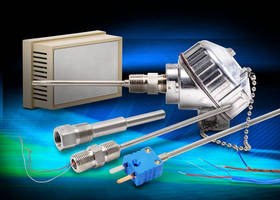 AutomationDirect's ProSense line of temperature sensors now includes room temperature sensors, Type T thermocouple probes, higher-range probes, Type T thermocouple wire and RTD adjustable immersion sensors.

The ProSense room temperature sensors feature a temperature sensing range of -40 to 185 degrees F, are constructed with ABS plastic ventilated covers, metal wall mounting subplates, and an internal terminal strip for wiring connections. The ambient temperature sensors can be mounted horizontally or vertically and are available in Type J thermocouple and Pt100 type RTD versions; prices start at $25.

Type T thermocouples, starting at $17.25, have been added for applications requiring lower temperature measurement. Available in attached plug and heavy-duty lead wire models, and in six, 12, and 18-inch probe lengths, the 1/8-inch diameter probes feature a temperature sensing range of -328 to 700 degrees F. Type T thermocouple extension wire is now available in 50, 100 and 200-foot lengths, starting at $15.75.

Additional Type K thermocouple probes with higher temperature measurement are now available. Fitted with Inconel Alloy 600 sheaths to protect against harsh environments, the quarter-inch diameter probes are available in six, 12 and 18-inch lengths and have a temperature sensing range of 32 to 2100 degrees F. Prices start at $33.25. View the full line of thermocouple sensors at: www.automationdirect.com/thermocouple-sensors.

RTD adjustable immersion sensors have also been added. With a temperature sensing range of -58 to 572 degrees F, the RTD features a 100 ohm platinum three-wire element and is spring adjustable, allowing for variable immersion depths. The integral bayonet cap makes installation quick and easy when used with a bayonet adapter or pipe clamp adapter. RTD adjustable immersion sensors are priced at $43.50. Learn more about RTD sensors at: www.automationdirect.com/RTD-sensors.

Additional ProSense accessories include ceramic terminal blocks, screw cover connection heads, thermowells, adjustable pipe clamp adapters and thermocouple connectors.

For more information on ProSense temperature sensors, visit: www.automationdirect.com/temperature-sensors.

AutomationDirect sells over 12,000 feature-packed products through its Online Automation Superstore and 2,750-plus-page catalog. The company offers its customers high-quality automation products at prices typically below the industry average, same-day shipping on in-stock items, the best documentation in the industry, outstanding sales and technical support, and a 30-day money-back guarantee on nearly every product. For a free catalog, access their Web site at www.automationdirect.com or call 800-633-0405.


More from Controls & Controllers