AutomationDirect Adds Low-Cost Microstepping Drive and Accessories to SureStep Line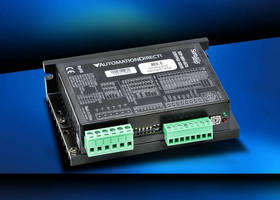 AutomationDirect's SureStep line of motion control products now includes a low cost of entry digital stepper drive in a compact package. The standard stepper drive operates with high-speed pulse input signals (Step and Direction, or jumper-selectable CW/CCW step) and has a selectable resolution range of 200 to 20,000 steps per revolution. Additional features include a switch-selectable automatic self test, digital filters to prevent position error from electrical noise on command signals, and optically isolated I/O. The unit's switch-selectable microstep emulation feature provides smoother, more reliable motion in full and half-step modes. Operated with a 24 to 65 VDC power supply, this microstepping drive has a running output current of 0.5 to 7.5 Amps. The standard microstepping drive is priced at $89.

If your application uses a regulated or switching power supply, you may encounter problems with regeneration which can trip the overvoltage protection of the power supply or a drive, causing it to shut down. To solve this, a regeneration clamp and braking resistor are available as optional accessories.

The SureStep regeneration clamp has a built-in 50W braking resistor and features a mounted-on heat sink, 24-80 VDC voltage range, and 6-pin screw terminal block. LED indicators show when power supply voltage is present and when the clamp is operating. External power is connected internally to an "Input Diode" which protects the power supply from high regeneration voltages and the system from connecting the power supply in reverse. The SureStep regeneration clamp is priced at $99. For additional braking power, an optional 100W braking resistor is available for $49.

For more information on SureStep microstepping drives, visit: www.automationdirect.com/stepper-drives.

AutomationDirect sells over 12,000 feature-packed products through its Online Automation Superstore and 2,750-plus-page catalog. The company offers its customers high-quality automation products at prices typically below the industry average, same-day shipping on in-stock items, the best documentation in the industry, outstanding sales and technical support, and a 30-day money-back guarantee on nearly every product. For a free catalog, access their Web site at www.automationdirect.com or call 800-633-0405.


More from Controls & Controllers