Automation System is suited for remote applications.
Press Release Summary: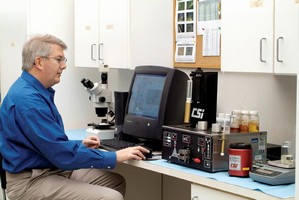 ControlWave ExpressPAC pre-engineered automation system includes Express RTU, compact Nema 4X rated enclosure, power supply, and solar panel options with battery backup, operator display/keypad input options, and wireless communication options. Suited for use in energy, water, and wastewater industries, ControlWave offers operating temperature range of -40 to +70°C for remote sites, and low power consumption for solar applications.
---
Original Press Release:

Emerson Expands Bristol® ControlWave® Remote Automation Technology for Oil & Gas and Water and Wastewater Industries



New standards-based ControlWave ExpressPAC breaks the price/performance barrier for small integrated RTU's

WATERTOWN, CONN (April 20, 2006) - Expanding its recently acquired Bristol® ControlWave® remote automation technology, Emerson Process Management introduces the ControlWave ExpressPAC, a highly integrated pre-engineered package solution that combines the new ControlWave Express RTU with a variety of options commonly required in SCADA applications.

ControlWave is a flexible remote automation system based on worldwide industry standards for programming and communications. ControlWave combines the best technologies provided by PLC, RTU and automation architectures into a Hybrid system well suited to remote applications in the energy, water, and wastewater industries.

Adding significant scalability to the ControlWave family, the pre-engineered ExpressPAC breaks the price/performance barrier for small integrated RTU products, offering proven ControlWave technology in a value-priced, space efficient package required in small I/O point applications such as water pump, tank, well and reservoir control, wastewater lift station and storm water monitoring, and natural gas well, storage and plunger lift control.

ControlWave ExpressPAC includes an Express RTU, a compact Nema 4X rated enclosure, power supply and solar panel options with battery backup, operator display/keypad input options, and wireless communication options. ExpressPAC eliminates the need for in-house panel and packaging design and fabrication resulting in lower initial installation cost. This also standardizes the maintenance effort to reduce the long term cost of ownership.

ControlWave ExpressPAC offers rugged, long-term reliability, wide temperature operation from -40 to +70° C for remote sites, and very low power consumption for solar applications. In addition, the system has been designed to meet CE and U.L. Class I, Div. 2 hazardous location requirements.

Emerson has leveraged Bristol communications and advanced control technology to design ControlWave ExpressPAC for use in large or small RTU applications. The ExpressPAC has three serial communication ports and one optional 10/100 Mb Ethernet I/P port. Bristol ExpressPAC facilitates communication with other devices through widely accepted networks such as TCP/IP open Modbus, serial Modbus, DF1, DNP3 and HART. Bristol BSAP protocol is a standard feature. For open access to most HMI products, Emerson's flexible, easy to implement Bristol OPC Server is offered.

ControlWave ExpressPAC includes the ControlWave Designer programming software that supports all five IEC 61131-3 programming languages. The Designer programming software is enhanced with a powerful library of ACCOL III process control function blocks allowing the use of a single controller for logic, control functions, measurement, calculations and data storage. Engineers can also develop their own reusable function blocks, further reducing engineering time and cost. These capabilities are further enhanced with time stamped alarming and historical archive storage within the PLC/RTU to provide maximum data integrity. This data is automatically recovered following a communication failure.

About Emerson Process Management

Emerson Process Management (www.emersonprocess.com), an Emerson business, is a leader in helping businesses automate their production, processing and distribution in the water and wastewater, chemical, oil and gas, refining, power, pulp and paper, food and beverage, pharmaceutical and other industries. Bristol (www.bristolbabcock.com), a division of Emerson, is a worldwide leader in the supply and commissioning of products, services, and engineered remote automation units for the oil, gas, water, wastewater and process industries. Bristol products, systems and solutions are an example of Emerson's combining of superior products and technology with industry-specific engineering, consulting, project management and maintenance services. Emerson brands include PlantWeb®, Bristol®, Daniel®, Brooks®, Fisher®, Micro Motion®, Rosemount®, Mobrey®, DeltaV(TM), Ovation®, and AMS(TM) Suite.

About Emerson

Emerson (NYSE: EMR), based in St. Louis, is a global leader in bringing technology and engineering together to provide innovative solutions to customers through its network power, process management, industrial automation, climate technologies, and appliance and tools businesses. Sales in fiscal 2005 were $17.3 billion. For more information, visit www.GoToEmerson.com.

CONTACTS:
Tom Elf, Emerson Process Management, Bristol
1 (860) 945 2200; telf@bristolbabcock.com

Jerry Moon, Emerson Process Management
1 (512) 832 3089; Jerry.Moon@EmersonProcess.com

More from Architectural & Civil Engineering Products