Automation Software provides compliance safety testing.
Press Release Summary: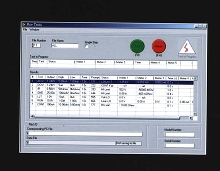 AutoWARE(TM) S8456 is designed to fully automate testing process of OMNIA(TM) series multi-function electrical safety compliance analyzers. It automates line leakage, insulation resistance, dielectric withstand, ground bond, and run tests. Information is captured in real time and stored for analysis. Built-in data analysis software automatically converts raw test results and presents them in graphic chart format. AutoWARE operates with Windows 9x/ME/NT/2000/XP.
---
Original Press Release:

Automation Software for Compliance Safety Testing


AutoWARE(TM) S8456 designed to run wihh Associated Research, Inc. OMNIA(TM) Series.

Lake Forest, Illinois, April 2002 -Announced today by Associated Research, Inc., is AutoWARE S8456, its newest version of software for electrical compliance safety testing. AutoWARE S8456
was developed to fully automate the testing process of Associated Research's OMNIA series of multi-function electrical safety compliance analyzers. It is able to automate Line Leakage, Insulation Resistance, Dielectric Withstand, Ground Bond and Run tests. AutoWARE is a Windows(TM) based software that installs easily and quickly on any PC-based system with Windows 9x/ME/NT/200/XP.

New to AutoWARE is a simplified Windows environment, which provides an easy to navigate user interface and a quick and efficient means to control an automated test system. An automatic
PC-controlled set-up eliminates operator error, while built-in help screens provide complete instructional assistance to the user. The user also has the ability to save test parameters as
individual files, which provides consistent test results on production lines that require several different tests to be performed. The file manager feature allows a user to manage the set-up files. Stored files can be managed either in the instruments memory or within the PC's memory.

AutoWARE is also the only stand-alone software that captures, stores and analyzes test results. Information is captured on a real time basis and stored for analysis and accessed when it is needed. All possible pass/fail conditions can be viewed in detailed, summary or graphed formats within a specified time frame. Built-in data analysis software automatically converts raw test results and presents them in a graphic chart format. Data is stored in ASCII format enabling tests results to be
imported by almost any spreadsheet, word processing or database program. AutoWARE can also be run with either RS-232 or GPIB communication interfaces and accepts data from any keyboard
emulation bar code scanner to capture model and serial number information. Automating a test procedure with AutoWare will not only increase throughput but also provide more reliable and
consistent results. Contact Associated Research today to receive a demonstration disc of AutoWARE.

Founded in 1936, Associated Research, Inc., is a worldwide leader in Electrical Safety Compliance Testing Instruments. Contact the company at 1-800-858-TEST (8378), e-mail at
info@aresearch.com or visit our site on the World Wide Web at www.asresearch.com

More from Sensors, Monitors & Transducers