Automation Control enables expansion at any time.
Press Release Summary: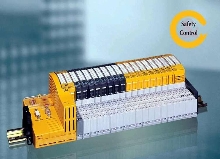 PSSuniversal combines decentralized, modular I/O and control platform with safety functions for automation needs. Design consists of head modules, as well as base modules that are connected alongside and available in screw or cage clamp terminals. Electronic modules are installed on base modules, allowing system to be tailored to automation requirements. PSSuniversal enables communication via standard fieldbus systems as well as with SafetyBUS p safe bus system.
---
Original Press Release:

PSSuniversal - The Future-Proof Control Platform from Pilz


(CANTON, MI) -- With a decentralized, modular I/O and control platform, PSSuniversal from Pilz is an economical solution for standard control functions together with safety functions for mid to top-range automation needs. Now safety and standard control functions such as the enable principle and block switching can be combined within one system without feedback.

High modularity and granularity offer users tremendous flexibility in terms of tailored solutions that are easy to expand at any time. At the initial stage, PSSuniversal enables communication via all common standard fieldbus systems in combination with the Pilz safe bus system SafetyBUS p.

The benefit of the PSSuniversal lies in its overall concept: standard control functions and safety functions are carefully united, and yet separate, so the PSSuniversal satisfies specific project requirements.

The flexible design consists of various head modules, combined with base modules that are simply connected alongside and are available with screw or cage clamp terminals. Electronic modules are installed on to these base modules, enabling the system to be perfectly tailored to the respective automation requirements.

The fine granularity of four or two minimizes the potential overhead, i.e., customers only pay for modules they actually use.

Head modules are available to connect to all common fieldbus systems. This enables a structure of decentralized inputs and outputs with pure standard control functions or -- in conjunction with SafetyBUS p -- with pure safety functions, as well as intelligent dovetailing of both worlds. This provides additional features such as freedom from feedback, enable functionality, or a block-switching function. The next stage sees the availability of different head modules for Ethernet-based concepts. Such openness with regard to control and/or communication decisions means the I/O and control platform is geared for the future.

As the system is launched, a wide portfolio of inputs and outputs is available for the standard section, enabling automation functions to be implemented economically. In the safety section, electronic modules are available as inputs, semiconductor outputs with various currents and for different categories, as well as relay outputs. The system's whole design meets Cat. 4 in accordance with EN 954-1 or SIL 3 in accordance with IEC 61508, as well as other international standards, enabling the implementation of all current and future automation requirements.

With the PSSuniversal, Pilz is offering standard and safety control technology from one source.

Pilz Automation Safety is the world leader in the development and manufacture of safety automation systems, products, and services. Their 53-year history of innovation includes the development of safety relays, programmable safety systems, safety bus systems, sensor technology, control and signal devices, measuring and monitoring devices, plus text displays and operator terminals. Pilz is a comprehensive total solutions supplier for safety-related and standard control technology. In 2004, Pilz Automation Safety L.P. celebrated 10 years at its North American headquarters in Canton, MI. For more information, contact Pilz at 1-734-354-0272, or visit www.pilz.com.