Automatic Video Trackers fuse images from multiple sources.
Press Release Summary: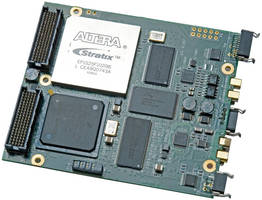 When configured with IMP20 Video Processing Mezzanine Card, ADEPT104 and AIM12 provide system for detecting, tracking, stabilizing, and fusing images from multiple sensors and cameras in real-time. Full-frame, multi-resolution image fusion algorithm enables intelligent management and interpretation of multiple parallel visual information streams. Also included, warp engine provides rotation, scaling, and translation for each video source to compensate for distortion/misalignment.
---
Original Press Release:

GE Fanuc Intelligent Platforms Announces High-Performance Image Fusion Solution for Use in Harsh Environments



IMP20 Video Processing Mezzanine Card adds image fusion capabilities to GE Fanuc ADEPT104 and AIM12 automatic video trackers

o Intelligently combines input from multiple sensors, cameras

o Real-time, full-frame, multi-resolution image fusion

o Outperforms software-based solutions

CHARLOTTESVILLE, VA November 12, 2008 GE Fanuc Intelligent Platforms today announced the IMP20 Video Processing Mezzanine Card. Designed to significantly increase the ease with which images from multiple sensors and cameras can be assimilated and interpreted, thus speeding reaction time and potentially saving lives, the IMP20 adds image fusion capabilities to the GE Fanuc ADEPT104 and AIM12 automatic video trackers. It allows the design of highly integrated, high performance graphics capabilities in any environment where the input from multiple devices needs to be fused in order to provide a complete, easy-to-interpret image. When configured with the IMP20, the ADEPT104 and AIM12 automatic video trackers provide a powerful system for detection, tracking, stabilization and fusion that delivers better performance than existing software-based solutions and can be used in harsher environments than other hardware-based solutions.

Without the capabilities of the IMP20, an operator would need to scan multiple screens, each of which was displaying an image from a different type of sensor or camera such as color-visible, near infrared or thermal infrared, reducing the speed with which the operator could react to a potentially hazardous situation. Worse: only a single display might be available, meaning that the operator would need to cycle through a number of inputs. The IMP20 'fuses' multiple sensor or camera inputs into a single on-screen image, making interpretation easier and allowing faster reaction.

"We're seeing a substantial increase in the number and type of sensors being deployed on today's military and paramilitary vehicles, and with that comes the potential for operator information overload," said Peter Cavill, General Manager, Military & Aerospace Business at GE Fanuc Intelligent Platforms. "The IMP20 provides an intelligent way of managing, interpreting and acting upon multiple parallel visual information streams in a complete, compact, lightweight and powerful video tracking solution that can be deployed in the harshest environments."

The IMP20 offers intelligent, real-time, full-frame, multi-resolution image fusion which aims to maximize scene detail and contrast in the fused output, producing superior fused image quality with maximized information content. The image fusion algorithm embedded into the IMP20 is a new approach to multi-scale fusion that benefits from much faster execution times and reduced memory overheads. The novel algorithm gives significantly improved results over the baseline weighted average algorithm while still performing in real time on live imagery.

The unit's built-in warp engine provides rotation, scaling and translation for each video source to compensate for image distortion and misalignment between the imagers, reducing the need for accurate matching of imagers with a resulting reduction in overall system cost.

About GE Fanuc Intelligent Platforms

GE Fanuc Intelligent Platforms, a joint venture between General Electric (NYSE: GE) and FANUC LTD of Japan, is a high-performance technology company and a global provider of hardware, software, services, expertise and experience in automation and embedded computing, with products employed in virtually every industry, including manufacturing automation, process automation, defense, automotive, telecommunications, healthcare and aerospace. GE Fanuc Intelligent Platforms is a worldwide company headquartered in Charlottesville, VA, and is part of GE Enterprise Solutions. GE Fanuc Intelligent Platforms provides a unique foundation of agile, advanced and ultra-reliable technology that customers can trust to ensure their long-term success. For more information, visit www.gefanuc.com

All trademarks are the property of their respective owners

About GE Enterprise Solutions

GE Enterprise Solutions elevates customers' productivity and profitability with integrated solutions using sensors and non-destructive testing; security and life safety technologies; power system protection and control; and plant automation and embedded computing systems. Enterprise Solutions' high-tech, high-growth businesses include Sensing & Inspection Technologies, Security, Digital Energy, and GE Fanuc Intelligent Platforms. The business has 17,000 problem-solving employees in more than 60 countries around the world.

For more information contact:
Ian McMurray
GE Fanuc Intelligent Platforms
t: +44 (0) 1327 322821
e: ian.mcmurray@gefanuc.com

More from Laboratory and Research Supplies and Equipment