Automatic Tool Changers Play Key Role in Flexible Manufacturing Transformation at Chrysler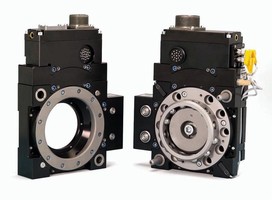 Automatic tool changers give robots the ability to perform a variety of tasks by providing a means to quickly change end-effectors. Robots with Heavy Automation Tool Changers supplied by ATI Industrial Automation, Apex, N.C. at Chrysler Group's Belvidere, Ill. Assembly Plant provide the ability to produce multiple model cars on a single assembly line. Chrysler Group's new flexible manufacturing process was designed to cut costs and increase flexibility and the Belvidere Assembly Plant, equipped with over 700 ABB robots and 237 Master-side and 576 Tool-side ATI tool changers, can now build several car models automatically by simply switching end-effectors. The new process is a welcome alternative to the conventional method of re-tooling the assembly line for each new model.

Traditional automotive assembly plants are designed to assemble only one model car at a time which can be costly when production demands drop and the plant is forced to operate at a decreased capacity. The new Belvidere assembly line is more responsive to demand allowing three different models to be built at one plant. As an added bonus, the new plant refit cost the Chrysler Group over 30 percent less than conventional retooling costs; and in the past much of the equipment was scrapped.

Frank Ewasyshyn, Executive Vice President-Manufacturing, Chrysler Group recently stated in the Wall Street Journal, "We are now starting to see the results of the flexible manufacturing process that we believe is a competitive advantage for the Chrysler Group. Thanks to Belvidere's ability to build multiple models off one assembly line, we expect the production of three all-new models to cost significantly less than the initial investment we made in the plant to build one product."

ATI Industrial Automation is a world-leading engineering-based developer of robotic peripheral equipment, including Automatic Tool Changers, Multi-axis Force/Torque Sensing Systems, Robotic Deburring Tools, Robotic Collision Sensors and Compliance Devices. ATI's dedicated engineering staff prides itself on providing solutions to the most challenging engineering obstacles associated with state-of-the-art manufacturing facilities. Keith Morris, President, ATI Industrial Automation, states, "Our mission is to provide customers with high-quality robotic peripheral devices, tooling and sensors that enhance their profitability by increasing the effectiveness, flexibility and safety of automation applications. We expect to see the rest of the automotive industry to follow the example that Chrysler has set with their flexible manufacturing process."

For more information about ATI products and the Chrysler application, contact Charles Haines, Marketing Manager, ATI Industrial Automation, 1031 Goodworth Drive, Apex, NC 27539, phone 919-772-0115, fax 919-772-8259, e-mail chaines@ati-ia.com.