Automatic System recycles wash water at rates to 40 gpm.
Press Release Summary: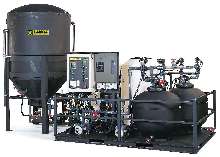 Using PLC, Model CLP-9044 automatically backwashes filters, polishes standing water during night, and eliminates sludge buildup on regular cycle. Microprocessor-controlled system also offers manual override to automated operations. System components include multi-media and activated carbon filters; painted-steel, 6 x 9 ft platform; separate, 600 gal, cone bottom tank; and raised, solids separation, and clarification tank.
---
Original Press Release:

Landa Introduces Fully Automated System for Recycling Wash-Water at 40 GPM Rate


Landa, North America's largest manufacturer of industrial pressure washers and water cleaning systems, has introduced a fully automated system capable of recycling wash water at a rate of up to 40 GPM.

Using a Programmable Logic Controller (PLC), the CLP-9044 automatically backwashes filters, polishes standing water during the night, and eliminates sludge buildup on a regular cycle, thus eliminating the operational and maintenance headaches so often associated with wash-water treatment systems.

The microprocessor-controlled system also features manual override to these automated operations:

o Both the multi-media and activated carbon filters are backwashed when a sensor registers a pressure differential increase of 10 PSI or more;

o Valves are opened and closed automatically each night to create a two-stage recirculation of standing water in the tanks and collection pit, injecting ozone and polishing the water with each pass;

o Sludge is dumped at least twice a day--and more often, if needed--from the 600-gallon cone-bottom tank and deposited into a sludge tub and burlap bag where the water drains off leaving the solids to dry.

The CLP-9044, which is capable of treating wash-water at a rate of up to 40 gallons per minute (GPM), boasts the same features that have made Landa a preferred provider of wash-water recycling systems in North America since 1989.

Among the features are:

o A system that is self-contained on a painted steel (or optional stainless steel) platform measuring 6-by-9 feet, plus a separate 600-gallon tank, making installation remarkably simple and quick;

o A raised, solids separation and clarification tank for above-ground handling of light-to-medium dirt loads in a wash operation, thus reducing the risk of undetected leaks and minimizing the need for below-ground pits;

o Above-ground, steep-pitch sludge disposal for user-friendly handling of solid residue;

o A first stage multimedia filter consisting of 950 lbs. of a special blend of sand, two sizes of garnet, gravel and anthracite to screen out dirt and other solids down to 40 microns in size;

o A second-stage filter of 700 lbs. of degassed, virgin, activated carbon that through adsorption removes pesticides, solvents, benzenes, diesel fuels, acetones, and other hydrocarbons;

o Top-of-the-line, timer-controlled, corona discharge ozone generator injects bacteria- and odor-killing ozone into the waste stream in a manner that ensures up to 99% contact;

o Easy user operation, including mode indicator lights, pump operation lights and an emergency stop switch

o A unique, steep-pitched, cone-shaped coalescing pack in the clarifier tank for optimum separation of oil and solids from the wastewater; and

o A chemical monitoring and injection system for introducing flocculates and other chemicals to further enhance the CLP's cleaning capabilities, as well as maintaining proper pH and ORP levels.

The CLP system is most commonly used in high-pressure washing operations where there is a high level of oil, dirt, and other solids in the wash water, such as truck and equipment maintenance shops, rental yards, solid-waste hauling facilities, heavy equipment wash sites, golf course wash stations, and even manufacturing operations.

Companies that use a pressure washer to clean equipment, vehicles or facilities are coming under increased pressure to recycle their wash waster, rather than put it down the drain or onto the ground. Landa Water Cleaning Systems, a leader in the cleaning equipment industry since 1969, was the first pressure washer manufacturer to develop a wash-water treatment system for processing water used by high-pressure cleaning equipment. Today, more than 3,000 such systems have been installed around the world.

For more details, contact Crismon Lewis, 800-547-8672, Ext. 175.


More from Electronic Components & Devices