Automatic Scrubbers Have Met Their Match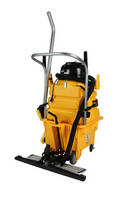 Kaivac's AutoVac, certified by the National Floor Safety Institute, cleans and maintains floors quickly and effectively-but at a fraction of the cost of a conventional automatic scrubber.

Part of Kaivac's award-winning OmniFlex(TM) Crossover Cleaning system, the AutoVac is a preconfigured unit that includes a trolley bucket that dispenses only fresh cleaning solution to floors, a wet/dry vacuum, and an AutoVac Add-On Kit.

Recent tests at the University of Massachusetts report the AutoVac is so effective it matches the cleaning performance of a pricey conventional automatic scrubber.

For more information,
www.kaivac.com
call toll-free: 800-287-1136.

More from Cleaning Products & Equipment