Automatic Sampler demounts without process interruption.
Press Release Summary: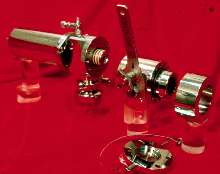 ISOLOK® SAL-25 Sampler Series handles liquids and slurries with entrained solids up to 3/8 in., drawing measured samples of 25 cc/cycle on command from electrical or pneumatic controls. Actuated by double-acting air cylinder, products tap process streams moving through pipes or vessels pressurized up to 300 psi. Integral process-isolation valve allows removal of sampler for service without de-pressurizing process being sampled. Sample path always remains enclosed.
---
Original Press Release:
Heavy-Duty Automatic Sampler from Bristol Equipment Co. Allows Service Demounting Without Process Interruption

YORKVILLE (IL), DEC. 11, 2002 -- A new addition to the ISOLOK® family of automatic process sampling instruments from Bristol Equipment Company is first in its industry to feature an integral process-isolation valve that allows removal of the sampler for service without de-pressurizing the process being sampled.

New Series SAL-25 Samplers handle liquids or slurries having entrained solids of major dimension up to 3/8" (9.5mm), drawing measured samples of 25cc per cycle on command from electrical or all-pneumatic controls. Actuated by a double-acting air cylinder for greater safety in volatile environments, ISOLOK SAL-25 Samplers tap process streams moving through pipes or vessels pressurized up to 300 psi (20 bar). The sample path always remains completely enclosed to avoid spillage waste, contamination of sample or process material, or exposure of personnel or the plant environment to hazardous material or fumes.

A simple, reliable design with only one moving part, the ISOLOK SAL-25 sampler mounts through an adapter hub welded onto the process equipment. The sampler body encloses a plunger that extends through the hub to penetrate the process stream then immediately withdraws. Samples are captured by positive displacement in an annular ring machined into the end of the plunger. Each 25cc portion is drawn into the sampler body as the plunger retracts and is discharged by gravity directly into an attached container or discharge line. Custom annular rings are available for different sample sizes.

A separable section mounted between the sampler body and adapter hub contains a 1-1/2" (38.1mm) ball-type valve that is precision-bored to allow passage of the sampler plunger. Between cycles, the plunger rests withdrawn from the valve. When the plunger is at rest, the ball can be turned to closed position, isolating the sampler body from the process. The sampler then can be detached from the isolating valve section by removing four bolts that hold the sampler and valve section together. The new design includes a special blocking cap that can be installed over the exposed isolation valve using the same four bolts, to double-block the valve outlet and to protect the valve until the sampler is reinstalled.

A small tell-tale valve in the ball chamber allows the operator to confirm the seal of the closed ball valve before loosening the main sampler assembly. A similar small valve mounted atop the sampler body allows cleaning fluid to be flushed through the valve body, while the sampler remains in service, to help prevent residue build-up and to extend the life of internal seals.

The isolation valve handle -- a lever mounted to one side of the valve section -- rests in horizontal position parallel to the sampler body while the valve is open and in vertical upward position when the valve is closed, providing distant visual indication. In either open or closed position, the handle butts against stop screws and is secured against inadvertent movement by a 3/8" (9.5mm) diameter steel locking pin inserted through a hole in the handle into an aligning socket in the valve body. This locking method also assures that the opened ball valve bore remains precisely aligned for smooth passage of the sampling plunger.

When the sampler's air cylinder is actuated, its 6" (152.4mm) stroke extends the plunger approximately 2" (51mm) into the process stream. This cleans out any materials that may have settled in the valve bore between cycles and creates local turbulence in the stream, which helps assure a representative sample.

All metal parts of the ISOLOK SAL-25 are type 316 stainless steel with polished finish, and the plunger is made of tough, abrasion-resistant stainless alloy 17-4PH for longer life in contact with sand, gravel and other abrasive materials often present in tailings slurries. Other metal alloys and wear-resistant nickel-tungsten-carbide bushings through the body are optionally available.

Triple O-ring seals encircling the plunger at both ends of the annular ring keep the access port closed and the process material isolated, regardless of plunger position. Product-contact seals are available in polyurethane, EPDM, DuPont Kalrez and a variety of other materials as needed to accommodate different process requirements. All seals are field-changeable.

Special actuating cylinders, designed and manufactured by Bristol, are all stainless, heavy-duty construction which eliminates conventional need for supplemental lubrication in the operating air.

Overall dimensions are 17-7/8" (45.4cm) long x 6" (152.4mm) deep, excluding sample collection bottle. Weight (standard construction less any accessories) is 33 lbs (15kg)

A wide range of cycle controls is offered, including adjustable time-based, flow-proportional, manual cycling and PLC (programmable logic controller) interface modules. Other custom-designed accessories can be provided by Bristol engineers to meet virtually any process sampling requirement, including interfacing with fully automated production systems.

Bristol Equipment Company, founded in 1964, offers a broad line of automated sampling devices for liquids and slurries, as well as dry flowable solids. Other products include automatic belt-conveyor samplers, cleaning systems for railroad tankcars and tank trucks, plus protective shields for debris-slinging machinery. Bristol products and design/test services are offered both direct and through a network of independent process-control representatives throughout the U.S. and many other countries throughout the world.

For more information, visit the Bristol website at www.bristolequipment.com or contact Bristol Equipment Company, 210 Beaver Street, Box 696, Yorkville, IL 60560-0696. Phone (630) 553-7161; FAX (630) 553-5981; e-mail info@bristolequipment.com.

Related