Automatic Pump Trap fixes steam condensate return problems.
Press Release Summary: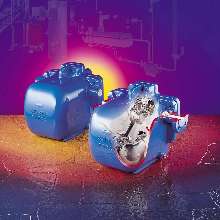 Model APT 10-4.5 functions as both condensate trap and pump in one unit. Steam-powered pump function provides up to 134 ft lift of hot condensate to 311°F, under maximum system pressure of 65 psig and backpressure up to 58 psig. Unit provides 2022 lb/hr of trapping capacity and 1420 lb/hr of pumping capacity. It includes positive, snap-action pump mechanism with replaceable valves and seats. Condensate inlet and outlet is ¾ in. NPT, with ½ in. NPT motive and exhaust.
---
Original Press Release:
New APT 10-4.5 Automatic Pump Trap Remedies Steam Condensate Return Problems
BLYTHEWOOD, SC - The new APT 10-4.5 Automatic Condensate Pump Trap from Spirax Sarco, Inc., can correct steam condensate system problems unresolved by conventional electric-powered pumps, or in system locations with no pumps at all. These problems may be poor heat transfer, irregular temperature control, component corrosion, steam system noise, waterhammer, tube failure or high maintenance costs. The APT 10-4.5 functions as both a condensate trap and pump in one compact unit. With its compact size and an installation head of only 8 in. from grade (179 mm), the APT 10-4.5 excels where condensate outlets are low-mounted, without constructing a sump. The unit can also be used as a small condensate return pump for open systems. The APT 10-4.5 steam-powered pump function provides up to a 134-ft (40.8-m) lift of hot condensate to 311°F (155°C), under a maximum system pressure of 65 psig (4.5 barg) and backpressure up to 58 psig (4.0 barg). The unit functions under steam vacuum conditions as well. The system should be considered wherever stall conditions may occur, including primary and secondary heating coils, small plate or shell and tube HEs, jacketed pans, storage tanks or vats. The APT 10-4.5 operates under a maximum motive pressure of 65 psig (4.5 barg), providing 2022 lb/hr (919 kg/hr) of trapping capacity and 1420 lb/hr (645 kg/hr) of pumping capacity. In systems operating above 65 psig (4.5 barg), the APT can be connected in parallel with a float trap for effective condensate removal under either operational or stall conditions and increases capacity. The APT 10-4.5 features a positive, snap-action pump mechanism with replaceable valves and seats. Materials include a ductile iron body with stainless steel internals and check valves. Condensate inlet and outlet is 3/4" NPT, with 1/2" NPT motive and exhaust. Spirax Sarco offers downloadable illustrated literature and technical specification sheets in the technical library of its website, www.spiraxsarco.com/us/. Spirax Sarco
Spirax Sarco is the world leader in the control and efficient use of steam and other industrial fluids. Contact
Dawn Cartwright
Marketing Communications Supervisor
Spirax Sarco, Inc.
1150 Northpoint Blvd.
Blythewood SC 29016
Tel. 803-714-2072
Fax 803-714-2224
EMail dcartwri@spirax.com
www.spiraxsarco.com/us
More from Communication Systems & Equipment