Automatic Polarimeter comes with 5 optical wavelengths.
Press Release Summary: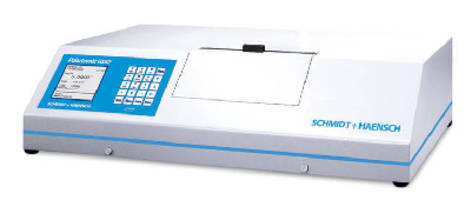 Providing continuous measurements at 4th decimal resolution, POLARTRONIC H532 features ±0.002° accuracy across full measurement range of ±89°. Unit has 365, 435, 546, 578, and 589 nm optical wavelengths, and comes standard with sodium light sources, menu-driven backlit LCD display, password protection, and printer, serial, and USB ports. For optimal measurement speed, POLARTRONIC 532 utilizes direct, electronic interface between analyzer and optical encoder.
---
Original Press Release:

Automatic Polarimeter Provides Continuous, Fast Measurements at 4th Decimal Resolution



Kirkland, WA, June 3, 2009 The new POLARTRONIC H532 automatic polarimeter features a high accuracy of ±0.002° and comes with 5 optical wavelengths. The H532's measurement speed, 4th decimal resolution, and accuracy are unmatched among polarimeters in the industry. "This is one special instrument," remarks Marketing Manager, Paul Wendling. "Our competitors that can even approach the S+H H532 with respect to accuracy can only achieve it within the range of ±1°. The H532 achieves the same level of accuracy across the full measurement range of ±89°. That's truly phenomenal."

Polarimeters determine the optical activity of a solution by means of a rotating analyzer and an optical encoder. Schmidt+Haensch POLARTRONIC automatic polarimeters make use of a (S+H patented) direct, electronic interface between the analyzer and the optical encoder. This technique allows for exceptional speed in measurements and consistent accuracy across the entire measuring range. All other polarimeter manufacturers employ mechanical linking of the analyzer and optical encoder. This results in much slower measuring time, inconsistent accuracy across the measurement range, and shortened service life due to mechanical wear and tear.

The H532 automatic polarimeter has optical wavelengths at 365nm, 435nm, 546nm, 578nm, and 589nm. Additional custom wavelengths are available on request. The H532 polarimeter comes standard with mercury and sodium light sources, a menu-driven backlit LCD display, password protection, and printer, serial, and USB ports.

A wide selection of samples cells and quartz control plates are also available.

Potential applications of the new S+H H532 automatic polarimeter include:

- Quality control of original, intermediate, and final products

- Purity control and substance concentration determination conforming to U.S. & European Pharmacopoeia standards

- Analysis of sugar and albumin in urine

- Hormone, enzymology, and toxicology research

- Purity control and identity of essential oils

- Purity control and determination of organic fluids and inorganic ions

- Analysis of optically active compounds

- Determination of configuration changes of macromolecules in solutions

Schmidt +Haensch has been manufacturing precision opto-electronic instruments since 1864. All S+H instruments are manufactured in Germany. VEE GEE Scientific is proud to be the exclusive North American wholesale distributor of Schmidt+Haensch instruments, including automatic refractometers, polarimeters, and colorimeters.

About VEE GEE Scientific, Inc.

VEE GEE Scientific is a wholesale manufacturer and supplier of scientific supplies and equipment. With its international network of dealers, VEE GEE equips scientists and technicians in a range of industries with cost-effective products that meet or exceed the performance of similar, higher-priced instruments. VEE GEE integrates quality brand names like VanGuard Microscopes and VEE GEE Refractometers with personal and professional service.

Contacts:

Kaely Culbertson, Sales & Marketing Coordinator, sales@veegee.com

Company Information:

VEE GEE Scientific, Inc.

13600 NE 126th Place, Suite A

Kirkland, WA 98034

USA

Phone: (425) 823-4518

Fax: (425) 820-9826

http://www.veegee.com

More from Agricultural & Farming Products