Automatic PCB Cleaner features zero-discharge evaporator.
Press Release Summary: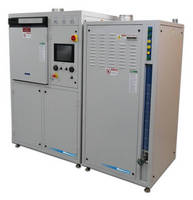 Trident III-ZD has zero-discharge evaporator that processes waste fluid continuously at rate of 13 gal/hr and converts it into disposable substance. Unit includes asymmetrical spray bars and oscillating board rack to provide thorough cleaning, and utilizes defluxing with saponifier cleaning procedure. It also does real-time cleanliness testing of boards processed. Windows® PC with 16-in. touchscreen monitor, wireless network capability, and barcode reader are integrated.
---
Original Press Release:

Manncorp's Trident III-ZD Defluxer/Evaporator Transforms Waste Water into Safely Disposable Material



The Trident III automatic PCB cleaner by Manncorp has now been made greener with the inclusion of a zero-discharge evaporator. Built to Trident's rugged specifications, the evaporator processes waste fluid continuously at the rate of 13 gallons (49 liters) per hour and converts it into a disposable substance.

Trident III is known for thorough cleaning power provided by asymmetrical spray bars and oscillating board rack to ensure 100% contact - even beneath low-profile components, such as BGAs. Small-aperture nozzles that greatly reduce the size of water particles, allow thorough cleaning of the underside of 0201 devices. Trident III-ZD treats lead-free water-soluble and no-clean pastes. Its thorough defluxing with saponifier is said to be the most acceptable cleaning procedure for assembled boards that would otherwise have curtailed life expectancies.

The III-ZD, is introductory-priced at $44,995, a reduction of $3,950, effective through December 31, 2010. "Although this equipment may cost slightly more than the Trident III defluxer itself," states CEO Henry Mann, "the elimination of potential liability by preventing waste water and flux residues from going down the drain makes it well worth the extra cost."

System intelligence is provided by a Windows® PC with 16-inch touch-screen monitor, wireless network capability and bar code reader. New software permits users to set parameters for wash, rinse and dry. This SPC data is conveniently recallable by product, barcode or customer lot number.

Another of Trident's exclusive features is its ability to do real-time cleanliness testing of boards processed. It will accomplish this by either continuing the rinse cycle until the user-specified cleanliness level is reached. Or, it will run the exact number of programmed rinses. "This feature allows the Trident III-ZD to reduce process time and cost of power and process materials," Mr. Mann added. "It's one more example of how Manncorp is moving ahead to make our equipment greener and less energy-dependent, not only benefitting the environment - but also lowering operating costs."

For details, access Trident III-ZD or call 1.800. PIK MANN (745.6266) or e-mail sales@manncorp.com. Manncorp offers pick-and-place machines, stencil printers, reflow ovens, rework systems, wave solder machines, solder pastes, board cleaners, desiccant cabinets, and more. Accessing manncorp.com is an informational experience. Not only are full details and specifications provided for the 150+ products, but prices are also attainable immediately after minimal contact information is provided.

More from Machinery & Machining Tools