Automatic Mitering Bandsaw offers PC-based remote control.
Press Release Summary: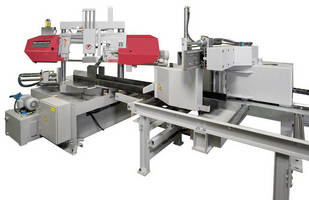 Along with 118 in. feeding gripper, HBP-310/523G/A features CNC-dialogue control via Windows®-based PC. Horizontal bandsaw, used for cutting all materials from profiles to high-tensile solids, has 15 in. flat panel LCD (1,024 x 768) and allows data sharing with key personnel. Along with 105° miter range, features include saw band deflection tracking, cast iron frame, and steel base with integrated swivel. Saw utilizes positive hydraulic downfeed with heavy-duty gearbox and 5.4 hp motor.
---
Original Press Release:

New, PC-Based Remote Control for Automatic Mitering Bandsaw



Morgantown PA -- Behringer, a world-class provider of bandsawing machines, circular cold saws and structural fabricating equipment, has launched a new version of its model HBP-310/523G/A mitering bandsaw. The saw now features CNC-dialogue control via PC along with a stand alone 3 meter (118") feeding gripper. A heavy-duty high production machine, the Behringer HBP-310/523G/A automatic horizontal miter bandsaw is designed for accurate and economic cutting of all materials from profiles to high tensile solids.



The new PC computer interface enables total control over mitering functions while at the same time permitting the machine operator to attend to other important tasks. The PC supplied by Behringer runs on MS Windows. The display is a 15-inch flat panel LCD (1024x768). Keypad or touch screen commands facilitate fast, accurate programming and execution of sawing operations.



"The PC-based control system enables data sharing with key personnel," said Joe Suydam, Behringer Sales and Marketing Associate. "This includes sophisticated machine commands, not just stop and go. For example, there is an auto-feed control with electronic adjustment of the blade speed and downfeed rate based on the selected material grade and cutting width." Suydam said that the remote CNC programming capabilities include a broad range of commands including input of orders with material number, part dimensions, cut-off lengths, quantity, trim cut length, part number and drawing number. Input is stored in the job data bank and can be re-called at any time.



A particularly useful feature of the new PC controlled saw is a program which tracks saw band deflection to monitor the straightness of the cut. Regardless of where the operator is, real-time digital display of blade deviation from the zero line may be viewed on the PC screen. When a preset deflection limit value is reached, the feed rate is automatically reduced. After 30 seconds, if the blade deflection is still over limit, the saw automatically executes another reduction of the feed rate. When the blade deflection no longer triggers reductions to feed rate, the machine readjusts to initial feed rate settings. Should blade deflection continue to increase, the saw blade will withdraw from the cut, the machine will switch off and an alarm will appear on the operator's PC screen.



The HBP-310/523G/A saw is mounted on a massive steel base with integrated swivel permitting rotation of the bowframe to any angle between 45 degrees-right through 60 degrees-left off of 90 degrees making the total miter range 105 degrees. The cutting angle is displayed digitally. Cast iron construction gives the saw frame the rigidity needed to reduce vibrations during cutting and enable high band tensioning. The vibration dampening Behringer design also facilitates precision movement of the blade and results in tight tolerances. The machine utilizes positive hydraulic downfeed with a heavy-duty gearbox and a 5.4 HP motor.



The saw frame is inclined 3 degrees to optimize the number of blade teeth which contact the material being cut. This saves time by minimizing the cutting cycle time for all types of stock including profiles and bundles. Like other Behringer bandsaws, the HBP-310/523G/A miter saw dual column frame design enhances torsion resistance during cutting. This design also provides controlled application of downfeed power resulting in precise, flat cuts and tight tolerances.



The 3 meter (118") feed gripper can dramatically reduce cycle time particularly when cutting longer pieces. For example, if the desired cut length is 52" long, the gripper will feed forward 52", make a cut, and feed forward again 52" to make a second cut before retracting to the beginning of the stroke. The feed cycle time is thereby reduced helping to promote a higher throughput. This is also an advantage when cutting shorter pieces. The feeding gripper will incrementally move to the specified cut length until the cut length is no longer possible by the gripper and then retract to the beginning of the stroke. The motorized feed gripper unit rides on linear bearings assuring smooth, accurate movement. The feed length measuring is by rack and pinion and NC programming.



As the bowframe of the saw rotates to the programmed miter angle, the feeding gripper advances the material to the desired cut length. This reduces cycle times and increases production. Hydraulic clamps hold the saw frame in position and digital display of the cutting angle appears on the operator's control panel. The bowframe rotation point is directly beneath the blade -- in line with the fixed vise jaw. The material remains in a single plane which eliminates the need for additional material handling. The vise, therefore, does not need to be repositioned to clamp material when cutting different angles.



With a swivel range of 237 inches, the saw will cut miters of 75, 60, 45 and 30 degrees. Cutting capacity for round stock is from 0.39 to 12.2 inches. For rectangular stock the saw handles from 0.78-inch square to 20.4 x 12.2 inches.



For more information on the Behringer HBP-310/523G/A automatic horizontal miter saw contact Behringer Saws, Inc., 721 Hemlock Road, Morgantown, PA 19543. Call toll-free at 888-234-7464.

Email sawing@behringersaws.com

Web site: www.behringersaws.com



About Behringer Saws



Behringer Saws, Inc. provides a full range of sawing and turnkey pre- and post-cut material handling productivity-enhancing products. Behringer supplies world-class quality automatic bandsaws to corporations, service centers, job shops and manufacturers throughout the world. The company also offers the Behringer Eisele brand of manual, semi-automatic and automatic miter circular cold saws, high performance circular cold saws utilizing bi-metal or carbide saw blades and CNC miter circular sawing systems. Also, the Vernet Behringer line of structural fabricating equipment includes high performance drilling, punching, shearing, notching and marking machines along with beam coping and drilling and sawing lines.

More from Machinery & Machining Tools