Automatic Infeeders work with Autobag® bagging systems.
Press Release Summary: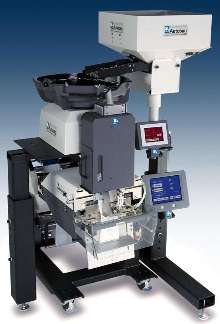 Autobag Accu-Count® 100 and 200 count and batch at speeds up to 2,500 packages/hr. Available with 3 bowl configurations, Accu-Count 200 utilizes vibratory bowl feed and count system and is capable of detecting and counting product measuring 1/8 in. dia x 1/8-2.5 in. long x 2 in wide. Accu-Count 100 utilizes batch accumulator and similar features of Accu-Count 200. Both incorporate AutoTouch(TM) Control Screen and Individual Part Profiling function.
---
Original Press Release:

New Accu-Count® Product Line Offers High Speed, High Accuracy Counting for Autobag® Bagging Systems


STREETSBORO, OH - November 7, 2004 - Automated Packaging Systems, the world leader in high-reliability packaging systems, has introduced its new Autobag Accu-Count® 100 and 200 High Speed Counters. These automatic infeed systems will count and batch at speeds up to 2500 packages per hour. When integrated with the company's complete line of next-generation packaging machinery, including the AB 180(TM) high-speed bagger and PI 412c Printer, a complete Count, Print and Pack system is achieved.

The Accu-Count 200 utilizes a vibratory bowl feed and count system that has been engineered for dependable operation in high productivity applications. The system is capable of detecting and counting product from 1/8" diameter, 1/8" to 2.5" in length, and up to 2" in width with extreme accuracy. The unit is available with three different bowl configurations, allowing the flexibility to run different part variations. Part Orientation Funnels provide enhanced control of the part as it falls from the bowl through the detection eye, while the Overcount Discharge Funnel diverts product to an isolated bin to ensure accuracy. The bag is then sealed and dispensed while another bag is pre-opened and presented for loading.

The Accu-Count 100 provides an economic and flexible counting solution. The system utilizes a simple batch accumulator and incorporates many of the same features found in the Accu-Count 200. Both systems are available with optional separation belts and a range of infeed funnels to enhance part handling.

The new AutoTouch(TM) Control Screen provides easy access to Job Storage, System Diagnostics and Productivity Data. An Individual Part Profiling function analyzes and assigns a value to each part. Any part below that value, such as dirt or part fragments, is identified as scrap and therefore not counted. Using system-matched Autobag bags-on-a-roll, the Accu-Count 100 and 200 offer a fast and effective Count-n-Pack solution with productivity up to five times the speed of hand load operations.

About Automated Packaging

Automated Packaging Systems has been designing and manufacturing original Autobag systems and products for more than 40 years. With more than 25,000 packaging systems in operation and a national service organization of more than 30 Field Service Engineers, Automated Packaging Systems delivers a total systems approach for ultimate customer satisfaction. The company's Autobag Systems Advantage(TM) program offers genuine Autobag materials and services with performance guarantees and preferential pricing.

www.autobag.com

More from Computer Hardware & Peripherals