Automatic ID Solution utilizes single board smart camera.
Press Release Summary: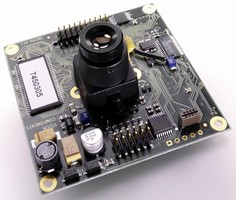 DSP-powered PIATI(TM)_SBC incorporates 640 x 480 pixel resolution CCD sensor with progressive scan capability. This ECC200 Data Matrix decoder solution is configured via included PC-based program with GUI that facilitates identification and selection of parameters and options. GUI also supports selection and configuration of supplementary automatic identification tools. Along with image/data and program memory, solution also provides digital I/O and RS232 interface.
---
Original Press Release:

The PIATI(TM)_SBC : A Single Board Smart Camera-Based Automatic Identification Solution



CAMBRIDGE, Mass - The Value Engineering Alliance, a leading provider of machine vision solutions, announces a new addition, the PIATI__SBC, to its comprehensive PIATI(TM) family of ECC200 Data Matrix decoder solutions.

The PIATI_SBC consists of software and a small single board smart camera suitable for standalone packaging or integration into an existing enclosure, in accordance with a user's specific requirements.

Like its fully integrated, ready to install and use counterpart the PIATI_AIT, the PIAIT_SBC is ideally suited for automated laboratory and manufacturing operations that involve the reading of direct marked codes or coded labels on slowly moving items, as well as items that are sequentially transported or indexed and, as a result, stationary at decode time. Easily configured using a PC-based program that features a graphical user interface (GUI), the PIATI_SBC facilitates the identification and selection of the parameters and options needed to optimize its performance for each application.

The GUI also supports selection and configuration of the product's supplementary automatic identification tools that are suitable for use in addressing certain trainable OCR and Interleaved 2 of 5 bar code reading applications.

The PIATI_SBC is powered by a digital signal processor, equipped with image/data and program memory, and makes the most of a medium resolution CCD (640 x 480 pixel) sensor that provides progressive scan capability.

Only 60 mm x 60 mm x 10 mm (excluding a lens holder and optics) in size, the PIATI_SBC features two digital inputs, four digital outputs, an RS232 serial communications interface that is also used to upload images of interest to PCs for display and a connector through which external illumination used in combination with the unit can be controlled. Normally shipped configured with a 12 mm diameter lens holder and standard lens, the boards can be optionally configured with a C-Mount lens holder.

The PIATI-SBC is one of several product offerings in the PIATI (Place It And Trace It) suite of Data Matrix decoding software and systems available from The Value Engineering Alliance.

The product suite includes fully integrated general-purpose products, application/industry-specific appliances and Data Matrix decoding software packages that are supplied in library function format.

For additional information, visit www.piati.com, email PIATIinfo@aol.com or call (877) 270-4410.

About The Value Engineering Alliance

Established in July of 1987, THE VALUE ENGINEERING ALLIANCE specializes in the conceptualization, development, marketing, selling, and implementation of machine vision solutions that lower the overall costs of laboratory and industrial manufacturing operations (analysis, assembly, inspection, test, control, identification, etc.) while achieving equivalent or enhanced levels of system/process performance and reliability.

Renowned as the supplier of application-specific vision software libraries used by several of the vision industry's premier players to enhance their existing offerings or expand into new application arenas, The VEA has been equally successful as a supplier of vision software and systems used in numerous industries by OEMs, system developers/integrators and automation engineers inside end user organizations. Based in Cambridge, Massachusetts (USA), the VEA operates worldwide via its extensive network of allied organizations and individuals. For additional information about the VEA's activities and areas of expertise, visit www.The-V-E-A.com.

More from Packaging Products & Equipment