Automated Guided Vehicle Systems
Automatic Guided Vehicles simplify material handling.
Press Release Summary: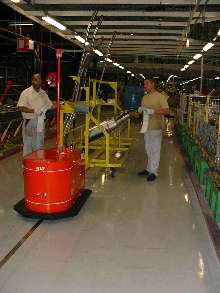 FLEXITRACK® vehicles read path mapped on floor with removable adhesive tape. Units are capable of towing or carrying loads from 300-3,000 lb. Powered by 24 or 48 Vdc batteries, they travel up to 2.3 fps. Each vehicle can store up to 20 different paths in memory. System can be controlled by FLEXIMANAGER®, which consists of central control unit, call terminals, visualization and validation terminals, and 433 MHz RF communication unit with range of 1,000 ft.
---
Original Press Release:

NLT Introduces FLEXITRACK®, Its New Automatic Guided Vehicle System for Material Handling


The French company New Logistic Technologies (NLT) is introducing FLEXITRACK®, a new automatic guided vehicle (AGV) system for material handling in any type of production, distribution, storage, or service facility. Extremely simple to set up, it is also inexpensive due to its unique floor guidance using a high-performance optical system.

FLEXITRACK reads the AGV's path that is mapped on the floor with removable adhesive tape. Stops are indicated by lateral marks on the guidance strips, and users can easily move, remove or add strips at any time to reconfigure the entire layout. The optical guidance system does not use any wire-transmitted signal and, therefore, is not affected by cross traffic or dirty floors. NLT offers three lines of AGVs capable of towing or carrying loads ranging from 300 to 3,000 lbs. The vehicles are powered by rechargeable 24-volt or 48-volt DC batteries, and can travel at speeds of up to 2.3 feet per second for periods of fifteen hours without recharging. Each vehicle can store up to twenty different paths in memory and are equipped with an interchangeable coupling hook, which makes them adaptable to any existing equipment.

The system can be controlled by FLEXIMANAGER®, which consists of four main components including a central control unit, call terminals, visualization and validation terminals, and a 433 MHz RF communication unit onboard each AGV with a range of around 1,000 ft. From a call terminal, an operator can request an AGV to pick up or drop off a product or components available from a list stored in the control unit's memory. The request is transmitted to the central control unit, which automatically assigns the task to a particular AGV. It then can be tracked using a visualization and validation terminal, which scrolls the list of components requested on the screen, verifies the load for quality and/or quantity using a keyboard or an optional bar-code reader, and checks the goods received at a receiving station.

NLT also designs, manufactures and supplies FLEXITRACK accessories such as the Liberty Mover transhipper, which offers the possibility to link automated assembly lines. Other accessories include trolleys, battery kits, and chargers. The company is currently seeking business contacts in both the United States and Canada.

E-mail: info@flexitrack.com
Web: www.flexitrack.com

or

FRENCH TECHNOLOGY PRESS OFFICE
One East Wacker Drive, Suite 3740
Chicago, IL 60601
Tel: (312) 222-1235
Fax: (312) 222-1237
E-mail: contact.ftpo@ubifrance.com

More from Communication Systems & Equipment