Automated Guided Vehicle Systems
Automatic Guided Vehicle fits in tight spaces.
Press Release Summary: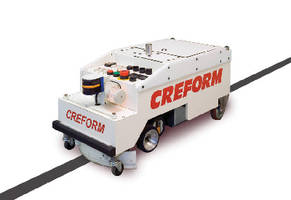 With minimum turning radius of 17.5 in., Tite-Space BST AGV Tugger is suited for delivering to line-side assembly points where space is limited. Unit consists of drive motor, 24 Vdc power supply, and guidance sensors. AGV travels in single direction along magnetic tape guidepath at speeds of 4-50 m/min and glides under stationary pushcarts, engaging cart by extending catch pin into BST interface. Depending on floor conditions and caster selection, max towed weight/draw bar is 1,320 lb/57 lb.
---
Original Press Release:

Creform Tite-Space BST AGV



ECONOMICAL, EFFICIENT, EASY TO DEPLOY

The need to efficiently transport material within a factory, warehouse or distribution center doesn't lessen when turns are tight and aisles are narrow. That's where the Creform Tite-Space BST AGV Tugger comes in. Manufactured by Creform® Corporation (Greer, SC), this AGV is especially well suited for delivering to line-side assembly points when space is at a premium. With a minimum turning radius of 400 mm (17.5 in) it slips into tight spots and leaves just as easily.

Like all Creform BST AGVs the Tite-Space features a low-profile, sleek design consisting of a drive motor, 24 Volt DC power supply, and guidance sensors. It travels in a single direction along an easily installed magnetic tape guidepath at speeds of (4-50 m/min) and glides under stationary pushcarts, engaging the cart by extending a catch pin into the cart's BST interface. The BST unit then conveys the cart to the required workstations or load/unload points further along the magnetic guidepath, retracts the pin to disengage the cart and is free to travel to further points and move additional carts.

A variety of carts can be moved, provided the undercarriage of all the carts is alike and have the BST interface. A major advantage of the Tite-Space unit, like all Creform BST AGVs, is its ability to mobilize multiple carts with a single drive unit, making it an economical alternative to other delivery methods. For larger operations, a series of BST drive units can power an entire fleet of carts.

The Tite-Space unit boasts a maximum towed weight/draw bar of 600 kg (1320 lb)/26 kg (57 lb) depending on floor conditions and caster selection. For safety it has electromagnetic breaking, audible warning and flashing light, obstacle sensor, bumper switch and e-stop. It also has a battery tray cart for easy battery changing. Command tapes initiate AGV functions such as speed changes, route selection and extend/retract tow pin, but control options include PLC, RF, RFID, and optical communicator. As always with Creform AGV products, superior service and support programming are featured, plus cart/structure designs, and kitting or assembly assistance along with route layout installation if required.

Along with a common sense approach to move parts and products, the Creform Tite-Space AGV may well be representative of the wave of the future. According to a recently released study, Productivity in the New Economy, devices like the Tite-Space unit fit well with the mindset of today's younger, tech-savvy, Generation Y workers. By allowing them to deploy automated devices and offering opportunities for them to participate in system configuration rather than spend time manually moving parts and product, this type of automation can help unlock worker creativity, thus further boosting productivity. In the era of global competition, the contributions of skilled and innovative workers can prove the difference between success and failure.

Visit www.creform.com for additional information regarding Creform Corporation and its products.

More from Computer Hardware & Peripherals