Automatic Fogging Machine features dual timer assembly.
Press Release Summary: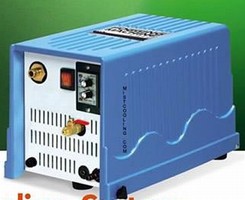 Suited for industrial, residential, commercial, and hospitality applications, Model FM920 automatic fogging machine features ceramic piston sleeves for creating pressure of 920 psi. Dual timer assembly, with settings for minutes and seconds, allows users to set exact misting and stop times desired. Pump automatically stops when water supply is interrupted, and 0.1 mm mesh inlet filter prevents debris from entering pump.
---
Original Press Release:

Automatic Fogging Machine



Mist Cooling Inc manufacturers newest automatic fogging machine with duel misting timer, auto pressure release, solenoid for no dry run, inlet filter for non clogging of nozzles, low noise, portable for reducing the risk of heat stress like work errors and accidents and increase employees productivity find applications for industrial, residential, commercial and hospitality such as lowering the temperatures, add humidity, suppress dust, neutralize odors, also help to prevent diseases caused by dusts, pollen, mosquitoes.

COMPANY PROFILE: Mist Cooling, Inc
From our advanced, innovative and strong technical 30+ years experience achieved in the field of High Pressure Water Pumps for misting and development of cleanable fine fog-mist anti-drip nozzles, we are achieving top performances and high quality standards of our misting systems.

Mist Cooling, Inc is today's one of the best misting products manufacturer for Global market to offer the best quality & affordable price to compete and a deep technical know-how in any field of applications from industry to domestics, from refreshing to humidification and odor/dust control.

Mist Cooling Inc's automatic fogging systems with misting on-off timer are compact, light weight, good look, efficient, with a easy and fast installation, reduce costs, with a drastically dropping the outside temperature rapidly during hot summer and help to prevent diseases caused by dusts, pollen, and keep mosquitoes and dangerous insects away.

We offer wide varieties in misting system Fix or Portable within your budget, you can also chat online instantly from our website through LIVE CHAT BUTON with our experts to answer any of your questions and troubles-shoots. Mist Cooling, Inc actively in the export market worldwide to 78+ Countries offers the most complete range of cooling.

Name: Mahendra Patel- Owner
Company: Mist Cooling Inc
Manufacturing Plant
Address: 19412 FM1093 Road,
Build # 4,
Richmond, TX 77469
Phone: 281-633-0109,
mak@cloudmister.com

http://www.cloudmister.com/p-160-high-pressure-automatic-fogging-machine-pump.aspx

More from Architectural & Civil Engineering Products