Automatic Floor Scrubbers come in several variations.
Press Release Summary: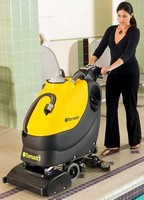 Made of rotomold polyethylene, automatic floor scrubbing machines are offered in walk-behind and ride-on versions. They are available in standard rotary disk format as well as cylindrical brush, which uses counter-rotating brushes instead of pads. Cleaning paths range from 18-33 in., and tank capacity varies from 11-30 gal. Designed for optimal floor contact pressure, machines operate at 67 dB and have square base design that aids in edge cleaning.
---
Original Press Release:

New Line of World-Class Automatic Scrubbers Introduced



Chicago, IL-February 18, 2008-Tornado® introduces a new family of high-performance, world-class automatic floor scrubbers.

The family of machines includes both walk-behinds as well as ride-ons. Additionally, the machines are available in standard rotary disk format as well as cylindrical brush, a newer technology that uses counter-rotating brushes instead of pads.

The machines have cleaning paths that range from 18- to 33-inches with 11 to 30 gallon tanks. Designed and engineered for every user, the machines are made of rotomold polyethylene and were put through a battery of field tests before introduction-assuring their durability, performance, ergonomics, and ease of use.

"We also put a great deal of emphasis on environmental issues," says Jolynn Kennedy, marketing manager for Tornado. "For example, with the cylindrical models, which uses brushes instead of pads, the brushes last up to 100 times longer, helping to protect natural resources and reduce environmental waste."

Users also appreciate that they have 4 to 6 times the floor contact pressure of conventional rotary floor machines. Another popular feature is the machines' square base design, which allows for enhanced edge cleaning.

Kennedy adds that the machines were designed with patented soundproofing systems. "The sound of the machines has been rated at just 67 decibels, about the sound of soft conversation," she says.

The machines were on display at the recent ISSA/INTERCLEAN(TM) tradeshow in Orlando and have now been shipped to Tornado distributors throughout the country.

More information is available by visiting www.tornadovac.com or by calling 1-800-VACUUMS.

Available For Interviews And Industry Commentary:
Tornado Industries President Michael Schaffer is available for interviews and industry commentary by calling (708) 867-5100

About Tornado® a Tacony Company

Tornado Industries has been designing and engineering quality cleaning equipment for more than 80 years. The company has a long history of developing innovative products and applying the latest technology to increase productivity, reduce costs, and improve safety. Tornado prides itself on always being on the cutting edge of floor care cleaning solutions, as well as being committed to the success of its dealer network.

Tornado®
7401 W. Lawrence Ave
Chicago, IL 60706
Phone: 800-Vacuums (800-822-8867); Fax: 708-867-6968
Chicago Phone: 708-867-5100
e-mail: sales@tornadovac.com

More from Electronic Components & Devices