Automatic Door Opener suits explosion-proof applications.
Press Release Summary: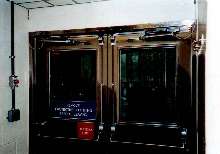 AIR FORCE(TM) design cycles 1,000 times per day with virtually no maintenance due to pneumatic strength and only 4 moving parts. High cycle life is rated for 10 million cycles. Opener has no helical gears, springs, or lubricants. Ultra-Power(TM) system opening force of 200 lb enables opener to drive doors up to 600 lb and 60 in. wide. Able to handle stainless steel or fiberglass doors, unit offers adjustable opening speeds from 1.5 to 5 seconds.
---
Original Press Release:

Erich Industries, AIR FORCE(TM) Automated Door Openers


Verona, WI - The new AIR FORCE(TM) Automatic Door Openers from Erich Industries combine superior high cycle life with Ultra-Power(TM) strength.

The advanced AIR FORCE(TM) design can cycle 1000 times a day with virtually no maintenance due to it's powerful pneumatic strength and only four moving parts. This unsurpassed high cycle life is rated for 10 million cycles. Unlike flimsy competitive models AIR FORCE(TM) has no helical gears or springs to wear or break and no lubricants to leak.

The Ultra-Power(TM) system opening force of 200 pounds is up to 12 times the thrust of puny competitive models. AIR FORCE(TM) has the capability to drive doors up to 600 pounds and 60 inches wide. This high strength system handles the toughest applications with ease including heavy stainless steel or fiberglass doors.

AIR FORCE(TM) provides opening speeds up to 5 times as fast as typical operators. The opening speed is adjustable from 1.5 to 5 seconds allowing efficient and safe regulation of traffic flow and environmental conditions.

The patented AIR FORCE(TM) system has no connection to the door to eliminate both door and opener damage in the event of vehicular impact. The door can swing away from the impact unlike weak "skinny arm" models that attach to the door. Also, this allows our opener to typically exceed egress requirements.

Many new customers including Abbott Laboratories, United States Postal Service, Pharmacia, Motorola, and Aventis already say AIR FORCE(TM) is the best! The system is perfect for pharmaceutical, postal, food, manufacturing and many other applications. Ideal for cleanroom or washdown areas due to the rugged corrosion resistant design. AIR FORCE(TM) is well suited for explosion proof applications as the control panel can be easily remote mounted.

Put AIR FORCE(TM) power behind your doors! Erich Industries, Inc. 550 N. Nine Mound Road, Verona, WI 53593 or call 1(800)882-5839.

For Confirmation:
Ken Nachreiner
Erich Industries, Inc.
1(800)882-5839

In Illinois: 115 E Irving Park Road, Box 744 o Streamwood, Illinois 60107 o (800) 882-5839 o (847) 608-0050 FAX
In Wisconsin: 550 N. Nine Mound Road o Verona, Wisconsin 53593 o (608) 848-9670 o (800) 882-5839 o (608) 848-9690 FAX
Sales@ErichIndustries.com o www.ErichIndustries.com