Tube / Pipe / Hose Cutters and Cutting Machinery
Automatic Cutter cuts wide range of materials.
Press Release Summary: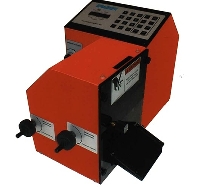 MMC100 cuts round or flat material up to 3.94 in. wide and .63 in. thick. It is microprocessor-controlled and can be programmed to cut any length with 1% or better tolerance. Programmable for up to 10 batches and 3 fixed feed rates, MMC100 is rated to cut up to 7,200, four in. pieces/hr. With max cutting force of 600 lbs, it can cut copper wire and cable, silver solder, power cords, cellophane, fiberglass sleeving, latex, fabrics, hosing, and tubing.
---
Original Press Release:
The MMC100: Clearly a Cut Above The Rest

From 8-AWG copper wire to cellophane, versatility, speed, and ease of use set the MMC100 apart

The MMC100 is an automatic cutter that offers the widest range of industrial cutting applications available today. Designed to cleanly cut a wide variety of materials, the MMC100 cuts round or flat material up to 3.94 inches wide and .63 inches thick (l00 mm wide and 16 mm thick).

With a maximum cutting force of 600 pounds, the MMC100 can cut a virtually limitless range of materials, including copper wire and cable, silver solder, power cords, cellophane, fiberglass sleeving, latex, fabrics, belting, flat and ribbon cable, strapping, hosing and tubing. For many materials, the unit is capable of cutting multiple pieces of the same material in one cut, increasing operator efficiency by allowing higher production runs in less time than other cutters.

Using the keypad, this microprocessor-controlled cutter can be easily programmed to cut any length (in inches or millimeters), with a 1% or better tolerance depending on material construction. Programmable for up to 10 batches and three fixed feed rates, the MMC100 is rated to cut up to 7,200, four-inch pieces per hour. The unit's power supply is 115V 60Hz or 220V 50Hz (minimum 60 PSI of air).

Since 1911, The Eraser Company of Syracuse, NY has manufactured a wide-range of industrial products, including wire and cable cutters, wire and cable strippers, wire twisters, wire brush wheels, fiber optic tools, dereelers, infrared heating equipment, measuring tools, and fybRglass® erasers. The company is ISO 9001 certified. The company offers Free E.S.P. (Eraser Sample Program). Send a 5-10 foot sample of your material and
Eraser will recommend the best solution for your processing needs from its line of more than 200 products. For unique processing needs, Eraser will custom design a solution for you. For more information on Eraser's entire product line or to place an order on-line, visit www.eraser.com.

The Eraser Company, Inc.; PO Box 4961 Oliva Drive; Syracuse, New York 13221 Phone: (315) 454-3237; Fax: (315) 454-3090; E-Mail info@eraser.com; www.eraser.com

SOLUTIONS IN WIRE PROCESSINNG
More from Architectural & Civil Engineering Products