Automatic Balancing Valves are externally adjustable.
Press Release Summary: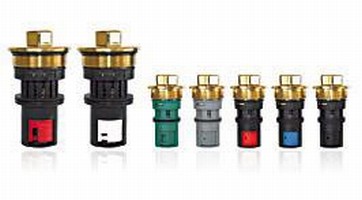 Able to adjust to one of 40 different flow rates using special secure key, AB valves provide automatic balancing which enables desired flow rate to be achieved as well as dynamic balancing which maintains flow rate as each valve compensates for pressure fluctuations in system. They feature pressure and/or temperature measurement plugs for verifying conditions of heating/cooling water in system, and multiple connections for different system configurations.
---
Original Press Release:

FlowCon Brings Dynamic Balancing Valves to U.S. & Canada via New Charlotte NC Headquarters



CHARLOTTE, N.C. - FlowCon International, a leading European manufacturer-distributor of flow control valves for commercial heating and air conditioning systems, has launched its line of AB automatic balancing valves from new headquarters in Charlotte, N.C., serving the United States and Canada.

The new North American operations, known as FlowCon Americas, LLC, is led by Howard Rozendal, an experienced veteran of the HVAC (heating, ventilation, air conditioning) industry. The new headquarters is located at 10430-K Harris Oaks Blvd. in Charlotte.
"Our automatic balancing valve is unique because it is externally adjustable," Rozendal said. "Unlike other balancing valves which have a fixed GPM (gallons per minute) and have to be removed from a shut-down system if a change is needed, ours can be changed externally to one of 40 different flow rates by simply turning a control valve with a special key.

"What this means for the building owner or contractor is that when the needs of building tenants change, the cost and ease of changing the flow rate is extremely low compared to other flow control products," he explained.

Other features of the FlowCon adjustable valves include:
o Automatic balancing so the desired flow rate is achieved automatically
o Dynamic balancing, meaning the flow rate is maintained as each valve compensates for pressure fluctuations in the system
o Field adjustable - flow rate can be changed instantly using a special secure key
o Reduction of branch or "partner" valves so fewer valves are needed per system
o Accuracy to plus or minus 2 percent
o Pressure and/or temperature measurement plugs are available for verifying conditions of the heating/cooling water in the system
o Multiple connections are available for different system configurations

"Initial discussions with several leading U.S. and Canadian manufacturers and distributors have been very promising," Rozendal said. "We believe that the unique qualities which made FlowCon the preferred balancing valves Internationally will soon also make them the preferred choice in North America.

FlowCon was founded in 1987 with headquarters in Denmark. It also has offices today in Singapore and Dubai. The company is 100 percent focused on dynamic flow regulation and pressure independent temperature control. Details at international.flowcon.com. FlowCon Americas is available at 704-599-4700.

More from Optics & Photonics