Automatic Air Spray Gun suits small component finishing.
Press Release Summary: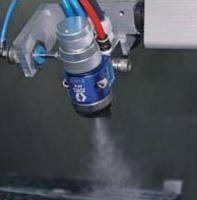 AirPro EFX automatic air spray gun features 6 nozzles sized for flow rates as low as 10 cc/min. Unit also includes aircaps, 3 micro-meter-telescoping fluid adjustment knobs, and high-wear components designed for abrasive materials. Utilizing 5 spray technologies including HiTEch, product also offers 2 mounting styles for manufacturing line flexibility. It is suitable for small component finishing applications such as electronics, automotive, and general metal.
---
Original Press Release:

Innovative Solution for the Small Component Finishing Market



New AirPro EFX Automatic Air Spray Gun Offers Optimized Performance for the Most Precise Spray Finishing.

MINNEAPOLIS, MN - Graco introduces the new AirPro EFX automatic air spray gun, an innovative solution designed for precision finishing in the small component finishing market. The AirPro EFX is a complete line of air spray automatic guns with optimized performance at low flow rate.

These compact and lightweight guns have aircaps and nozzles that are specifically designed to deliver superior spray performance for the small components market, which includes electronics, automotive and general metal. In addition, each gun is shipped with a serialized spray pattern imaging report that includes an actual spray pattern photo produced using laser-light sheet imaging. This allows users to not only see the high quality of the spray pattern with their own eyes, but also view a report that lists spray pattern benchmarks that each gun must comply with before shipping.

Features of the AirPro EFX include: aircaps and nozzles that deliver superior spray performance; precision fluid adjustment with a micro-meter-telescoping knob; high wear components designed for abrasive materials, and excellent fluid flow rate stability and repeatability.

"As demand for high-end small component finishing continues to grow, it's important to deliver the Graco technology that can meet these needs to stay competitive in the marketplace," said Wendy Hartley, Product Marketing Manager. "With its optimized precision spray finishing, the AirPro EFX gun is sure to be a tough competitor in this market."

Infused with the latest technology and performance features, the AirPro EFX gun offers many other innovations for the fine finish market, including: five spray technologies including the exclusive HiTEch; six nozzles sized for flow rates as low as 10 cc per minute, three fluid adjustment knobs for greater flow rate precision, and two mounting styles for manufacturing line flexibility.

ABOUT GRACO Graco Inc. supplies technology and expertise for the management of fluids in both industrial and commercial applications. It designs, manufactures and markets systems and equipment to move, measure, control, dispense and spray fluid materials. Minneapolis-based Graco serves customers around the world in the manufacturing, processing, construction and maintenance industries. Graco's Industrial Segment designs and markets equipment for the liquid finishing, process, sanitary, sealants, adhesives, composites, protective coatings and foam markets. For more information about the AirPro EFX guns, please visit www.graco.com.

More from Materials