Automated Selective Soldering Machine processes 12 x 12 in. PCBs.
Press Release Summary: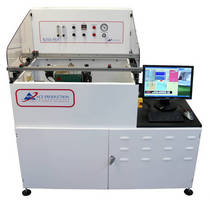 Intended for companies performing prototype volume, quick turn jobs that have few through hole components, entry-level KISS 101A uses traveling mini-solder wave soldering process and features controls mounted in a way that minimizes system footprint. Universal PCB location rails are standard, and lead or lead-free alloy solder pot and pump assembly are available. Along with 6 and 12 mm bullet nozzles, features include programming camera, teach functions, and programmable process parameters.
---
Original Press Release:

ACE Redesigns Popular KISS 101A Selective Soldering Machine; Adds Value, Efficiency



Spokane Valley, Washington, USA - ACE Production Technologies announces the re-launch of the popular entry-level KISS 101A Selective Soldering machine, based on feedback and suggestions from users around the globe.

"We're constantly working to improve and optimize our selective soldering systems to make them better and better," Alan Cable, President, relates. "The greatest source of improvement is our customer base. Our many users' suggestions for making our systems more efficient and user-friendly have been invaluable."

The KISS-101A is a cost effective, entry level selective soldering machine. "This system is popular especially with companies doing prototype volume, quick turn jobs that have a few through hole components. It's a versatile unit and we are already making installations in Asia and Mexico," Cable adds.

Improvements include a new skin and new controls mounted in a fashion that further minimizes the system's footprint. The KISS-101A is by far the lowest-cost automated selective soldering machine available using ACE's proven "traveling mini-solder wave" soldering process. The KISS-101A includes the following standard features:

Universal PCB location rails.

Lead alloy solder pot and pump assembly (lead free available).

6mm and 12mm "Bullet" nozzles.

Programming camera

Manual fiducial location

Heated Nitrogen to the solder nozzle.

Windows O/S.

Rapid setup and time to "first production" using the machine "teach" functions or available "off line" programming.

Programmable solder wave flow rate.

Absolute control over all critical process parameters

12" x 12" PCB processing capability

Step and repeat capability in both X and Y axis for multiple boards in a panel.

One year warranty covering the entire machine and two years for the solder pot and pump assembly.

"The KISS-101-A couples high throughput with precise process controls," Cable says. "The programmable features provide the tools to set all process parameters, and once set, the system will repeat precisely. Even though it is an entry-level priced machine, it will out-produce 3 or more operators soldering with an iron while significantly increasing the solder joint quality and to a predictable schedule. That means tremendous labor cost savings, higher throughput, and higher product quality and consistency. It's a selective soldering system that will pay for itself very, very quickly."

About ACE Production Technologies Inc.
ACE Production Technologies is a designer and builder of simple, affordable selective soldering, lead tinning, and related systems suitable for lead-free electronics assembly. ACE's line of rugged, reliable selective soldering systems includes the KISS 101, KISS-102, KISS-103, and the KISS-104 models; all feature lead-free compatible solder pots and are ideal for low to medium volume assembly.

For more information, visit www.ace-protech.com, or contact the company at 3010 N. Industrial Park, 1st Street, Spokane Valley, WA 99216; Tel. 509-924-4898, e-mail sales@ace-protech.com.

More from Computer Hardware & Peripherals