Automated Plasma Power Sources offer flexibility, reliability.
Press Release Summary: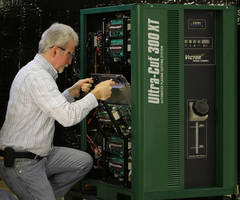 Ultra-Cut® XT Series delivers ISO Class 3 or better cuts on any material from gauge to 2 in. thick, reducing bevel and need for post-cut finishing in automated plasma cutting. On non-ferrous materials, unit produces optimal cut quality using Water Mist Secondary (WMS™) process. Power supplies, able to cut 1 in. thick steel at 80 ipm and 2 in. thick steel at 30 ipm, use HeavyCut™ consumables, which use multiple hafnium insert and feature 2-piece tip, for cutting at 300 and 400 A.
---
Original Press Release:

Next Generation Ultra-Cut® XT Automated Plasma Power Sources Deliver Improved Productivity, Flexibility and Reliability



ST. LOUIS – Victor® Thermal Dynamics® has launched the Ultra-Cut® XT Series of power sources for automated plasma cutting as part of its integrated system of components that deliver higher productivity and lower cutting costs. "The Ultra-Cut XT series is the most advanced power supply available today," says Martin Quinn, CEO, Victor Technologies. "This next generation series provides exceptional cost-performance benefits, and supports our integrated approach of optimizing each component at the cutting table, leading to more profitable plasma cutting."



Higher Productivity and Superior Cut Quality

The Ultra-Cut XT systems' superior cut quality enables parts to go directly from the cutting table to welding, painting or assembly without expensive secondary operations. The Ultra-Cut XT delivers ISO Class 3 or better cuts on any material from gauge to 2-inch thick, noticeably reducing bevel and the need for post-cut finishing.



On non-ferrous materials, the Ultra-Cut XT produces superior cut quality and a lower cost per cut using the Water Mist Secondary (WMS™) process, which incorporates nitrogen as the plasma gas and ordinary tap water for shielding. On stainless steel, the WMS process cuts up to 300 percent faster and lowers cost-per cut by 20 percent or more compared to systems that use Argon-Hydrogen for the plasma gas.



Lowering Cost on Thicker Cuts

With the ability to cut 1-inch thick steel at 80 inches per minute (IPM) and 2-inch thick steel at 30 IPM, the Ultra-Cut XT 400 can lower the cost per cut and makes it competitive with the oxy-fuel process.



The Ultra-Cut XT also lowers the cost per cut by using HeavyCut™ consumables for cutting at 300 and 400 amps. These consumables use a multiple hafnium insert as opposed to a single insert and feature a two-piece tip that runs cooler. Better cooling extends parts life and cut accuracy across the life of the tip, especially when piercing at higher amperages. These combined features extend consumables life by up to 45 percent, which in turn reduces cut cost per foot.



Efficiency, Flexibility and Reliability

Compared to previous models, Ultra-Cut XT systems draw 20 percent less primary current and have an average electrical efficiency of 92%. They meet EU Level Five efficiency standards and help companies everywhere lower utility bills.



The Ultra-Cut XT series is available in 100 to 400-amp configurations for cutting plate up to 2" (50mm) thick. All models feature a common cabinet and components. Users can increase the output from 100 amps all the way up to 400 amps by adding inverter blocks. With its modular design, parts inventory is minimized along with repair time.  A LED error display indicates machine status to accelerate troubleshooting, and should an inverter block malfunction, cutting can continue with the remaining blocks.



"The Ultra-Cut XT Series works the way our customers work – intelligently," says Dirk Ott, VP – Global Plasma Automation Brand, Victor Technologies. "The ability to add inverter blocks means fabricators never have to worry about purchasing a system that does not have enough capacity to meet future needs."



About Victor Technologies

Headquartered in St. Louis, Missouri, Victor Technologies provides superior solutions for cutting, gas control and specialty welding equipment under brand names that include Victor®, Victor®Thermal Dynamics®, Victor®Arcair®, Victor®TurboTorch®, Tweco®, Thermal Arc®, Stoody®, Firepower® and Cigweld®. For more information about Victor Technologies, its products and services, visit the company's web site at www.victortechnologies.com.



Contact:

Bill Wehrman, Communications Manager

Victor Technologies

Phone: 636-728-3057   

Email: media@victortechnologies.com



Alternate Contact:

Chuck Schroeder (PR Representative)

Office: 262-240-9790; Mobile: 414-467-3287

Email: chucks@imipr.com

More from Services