Automated Permeation System blends ppt gas standards.
Press Release Summary: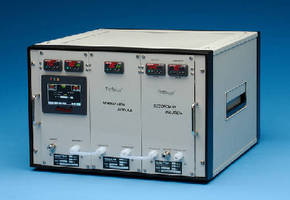 Using standard permeation tubes, computer-controlled FlexStream(TM)/SD blends single digit ppt mixtures with total dilution flow of 10 L/min or less. First stage combines flow of analyte vapor from Trace Source(TM) permeation tube with precisely controlled dilution gas flow to form ppb concentration primary mixture. In second stage, aliquot of primary mixture is further diluted to form ppt mixture. Permeation tube parameters and concentration requirements are entered via front panel touchscreen.
---
Original Press Release:

Computer Controlled Generator for PPT Gas Standards



Applications:

o PPT Gas Standards

o Airborne Molecular Contaminaton Standards

o Toxic Organic Vapor Standards

o Detection Dog Training Sources

The FlexStream(TM)/SD Automated Permeation System dynamically blends parts-per-trillion (ppt) gas standards directly from pure analytes. The first dilution stage combines the flow of analyte vapor from a Trace Source(TM) permeation tube with a precisely controlled dilution gas flow to form a parts-per-billion (ppb) concentration primary mixture. In the second stage an aliquot of the primary mixture is further diluted to form the ppt mixture. Permeation tube parameters and concentration requirements are entered into the system through a front panel touch screen. The FlexStream(TM) computer controls dilution and aliquot flows to create the required mixture using the lowest total flow of dilution gas. Trace Source(TM) permeation tubes are available for over 500 compounds.

Common challenges including storage instability of ppt standards are circumvented. For most compounds, ppt and even ppb gas standards are not stable in storage. The FlexStream(TM) avoids this problem by dynamically blending flowing mixtures for immediate use. But for ppt mixtures typical direct blending requires very high dilution flow and analyte flow that is too low for accurate measurement even using permeation tubes. By incorporating two integrated, automated dilution stages the FlexStream(TM)/SD easily blends single digit ppt mixtures using standard permeation tubes and total dilution flow of 10 l/min or less.

For more information, please write or call: KIN-TEK Laboratories, Inc., 504 Laurel, La Marque, TX 77568, Phone: (409) 938-3627, Fax: (409) 938-3710, www.kin-tek.com,
email: sales@kin-tek.com

More from Machinery & Machining Tools